Tata Steel To 'Mothball' Scottish Plants
20 October 2015, 11:14 | Updated: 30 March 2016, 13:50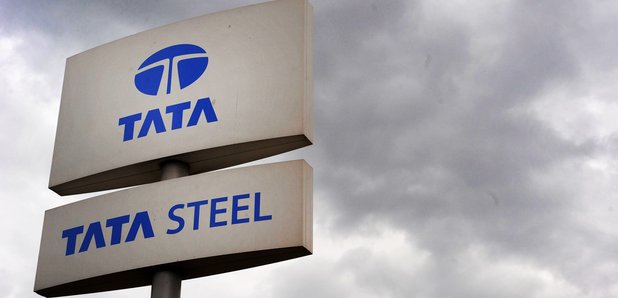 Fears about fresh job losses in the steel industry have been confirmed after Tata announced plans to cut 1,200 posts.
Around 900 jobs will be cut from the firm's giant plant in Scunthorpe, with 270 in Scotland and a small number in other sites.
The firm said the cuts were in response to a shift in market conditions caused by a "flood'' of cheap imports, particularly from China, a strong pound and high electricity prices.
The latest bad news follows the announcement that the Thai owners of the Redcar steelworks on Teesside, SSI, had gone into liquidation with the loss of 2,200 jobs, then Caparo went into administration yesterday.
Karl Koehler, chief executive of Tata Steel's European operations, said: "I realise how distressing this news will be for all those affected. We have looked at all other options before proposing these changes.
"We will work closely with affected employees and their trade union representatives. We will look to redeploy employees, wherever possible, and minimise employee hardship.
"The UK steel industry is struggling for survival in the face of extremely challenging market conditions.
"This industry has a crucial role to play in rebalancing the UK economy, but we need a fairer system to encourage growth. The European Commission needs to do much more to deal with unfairly traded imports - inaction threatens the future of the entire European steel industry.''
Roy Rickhuss, general secretary of steelworkers' union Community, said: "Our immediate thoughts are with the workers and their families who will be affected by this announcement. Community representatives will be looking to sit down with the company, to understand the detail and to look at all alternatives that save jobs and uphold our principle of no compulsory redundancies. We will also be putting in place advice and support for our members who are affected.
"The Government should hang its head in shame at today's news. The cruel irony of the Prime Minister welcoming the Chinese Premier as UK steel jobs are cut partly due to Chinese steel dumping will not be lost on the UK's steelworkers and their communities. We have been saying for years that more Government action is needed to support UK steel as a vital foundation industry. We have made clear that the situation is urgent. Despite these warnings the Government has been too slow to respond.
"It is not enough for David Cameron to 'raise' the issue of steel dumping with the Chinese, he should be telling them what action he will be taking to stop steel dumping. The UK Government could also show its support for the UK steel industry by bringing forward the compensation package for energy intensive industry. UK steelmaking is on its knees but I know that steelworkers across the UK are determined to fight for their future for the sake of their jobs, their families and their communities.
"There is also a role for the Scottish Government to ensure that today's news does not signal the beginning of the end of Scotland's steel heritage and that they honour the commitments they gave over the weekend to intervene in the interests of steelmaking in Scotland.''
Paul McBean, a Community official at the Scunthorpe site, said: "This is devastating news for everyone and their families. It's another blow to Scunthorpe steelmaking. The workforce has done everything we can in recent years to make a success of the business and give us the chance of a future. But we can't do it alone. We need the Government to step up and take action.
"The Prime Minister needs to show that he wants a steel industry in the UK. We need a sign that we've got a future. All we want is a level playing field to compete on.''
Ross Clark, Community's lead rep at the Tata Steel plant in Dalzell, said: "Everybody's devastated and worried by today's news. We've faced a lot of challenges in this business and we've overcome them but now our future is uncertain. We welcome the fact the Scottish Government is going to set up a task force and Community will play a full role in that.
"The task force must deliver on the promises the Scottish Government has made in recent days to save our steel. It needs to come up with real, practical solutions that protect the workforce, the skills and the assets until we can find an alternative and sustainable future.''
Gareth Stace, director of trade body UK Steel, said: "Our fears about further job losses have now been confirmed. If we are to stem this tide then the Business Secretary must now deliver as a matter of urgency the commitments he made at last week's summit, on energy costs, business rates costs and tackling unfair trade. In addition, we must also see a commitment from all parts of government at the highest level to ensure the sector's survival in the UK.
"The Prime Minister can demonstrate that he is prepared to lead this commitment by stepping in this week and pressing the Chinese Premier about the dumping of under-priced steel, which is one of the major factors killing our industry.''