Spieth Seeks Strong Start
16 July 2015, 09:26 | Updated: 30 March 2016, 13:50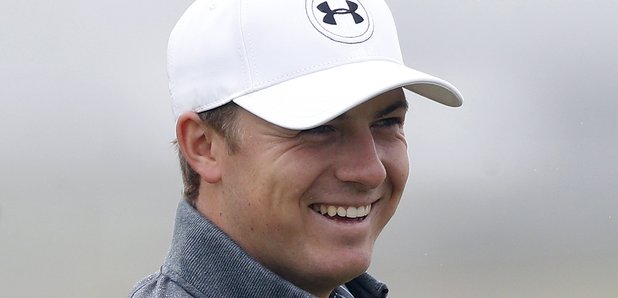 Jordan Spieth was aiming for a flying start to his bid for a third major title in succession as the 144th Open Championship got under way at St Andrews on Thursday.
Spieth is halfway towards an unprecedented clean sweep of the majors following his victories in the Masters and US Open and would become only the third man after Ben Hogan and Tiger Woods to win three in one year by lifting the Claret Jug.
The 21-year-old would also replace the absent defending champion Rory McIlroy as world number one with a victory on the Old Course, but was well aware of the part the weather could play.
Woods won the Masters and US Open in 2002 and was two shots off the halfway lead at Muirfield only to shoot 81 in the third round as the later starters battled gale-force winds.
"I understand that there's a possibility for a lot of this tournament to be dependent on the draw the first two days, at least for a few strokes,'' said Spieth, who was due to begin his first round at 9:33am alongside Dustin Johnson and Hideki Matsuyama.
"It doesn't mean you can't make it up if you get the bad end of it, but it will be harder.
"Going into it, you have to be as positive as can be. There's a little bit of pressure getting off to a good start given the way that Friday and Saturday look, no doubt about that.
"But Friday looks like it's going to be brutal for everybody. Looks like rain and wind in the morning and then extreme winds in the afternoon, so I don't really have a preference on which one I'd rather see.''
Spieth tees off at 2:34pm on Friday and added: "Obviously everybody would like it to be equal for everyone, but that's part of the challenge.
"You're going to get some shots that may kick into a pot bunker or you get a gust of wind where it blows it toward a bunker. It's how you handle that adversity and rebound quickly.
"But going into it, I certainly am trying to look at it as positively as possible because I don't feel like there's any other way to go about it.''
The good news for Spieth is that recent history suggests the cream will again rise to the top this week. Since Darren Clarke and Keegan Bradley won the last two majors of 2011 when 111th and 108th in the world respectively, the lowest ranked winner of a major has been Ernie Els, who was 40th when he won the 2012 Open at Lytham.
Last year Bubba Watson was ranked 12th before claiming his second Masters title and Martin Kaymer 28th before winning a second major crown in the US Open. McIlroy was eighth entering the Open at Hoylake and first at the US PGA, while Spieth was fourth starting the Masters in April and second at Chambers Bay last month.