SFA Meets With Sex Abuse Victims
13 January 2017, 17:48 | Updated: 13 January 2017, 17:49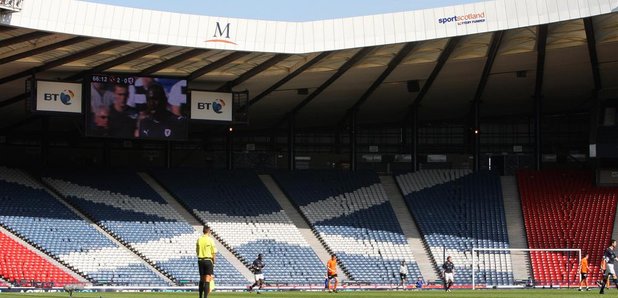 The Scottish Football Association (SFA) has met with victims of sexual abuse in the sport to offer support and set out the terms of an independent review of historical incidents.
The sport has been rocked by claims from former players across the UK that they were abused by people in positions of authority and Police Scotland revealed last month it is investigating more than 100 reports of child sexual abuse in football.
A number of Scottish clubs have started internal investigations while the SFA is setting up an independent review into allegations following pressure from various quarters, including Deputy First Minister John Swinney and former justice minister Cathy Jamieson, for Scottish football chiefs to act.
The governing body is recruiting an independent chair to lead the review and hopes to make an appointment by February but the SFA's child wellbeing and protection manager Donna Martin has already convened meetings with survivors of child sexual abuse.
The meetings were described as ''an open forum to hear their perspectives, provide support and to help shape and influence an appropriate terms of reference for the association's independent review''.
The SFA said child wellbeing and protection remains its highest priority.
Ms Martin said: ''The ongoing dialogue we have had with survivors has contributed significantly to defining the terms of reference for the independent review.
''We received a wide range of feedback from the survivors, including the timeframe for completion of the review, that there should be no limit to the period of time the review examines and that it should encompass all football in Scotland.
''It is vitally important to the Scottish FA that all parties are satisfied with the content before the review proceeds.''
A delegation from the SFA has met regularly with Police Scotland and third-sector organisations with expertise in supporting survivors of abuse.
It said any survivors coming forward will receive a professional-needs assessment from a clinical psychologist, who will then refer the victim to the appropriate level of support.
Speaking in December, Chief Constable Phil Gormley said: ''The protection of children is a cornerstone of our service and should be a concern for all.
''This is a fast-moving and fluid situation which requires both sensitive policing and strong partnership working with advocacy services and other statutory agencies.
''We recognise that speaking out about any form of child abuse is incredibly difficult and disclosures are often made months or years afterwards.
''We appreciate that sometimes finding a safe place to first talk about the experience helps eventual disclosure and would encourage anybody who feels this would assist to contact a support organisation.
''Individuals who disclose will be heard, they can be confident of the response they will receive, we will take all necessary steps to ensure support is there and that those responsible for such crime will be the subject of rigorous investigation.''