SFA Fined £15,692 By FIFA Over Poppy Row
19 December 2016, 14:26 | Updated: 19 December 2016, 14:27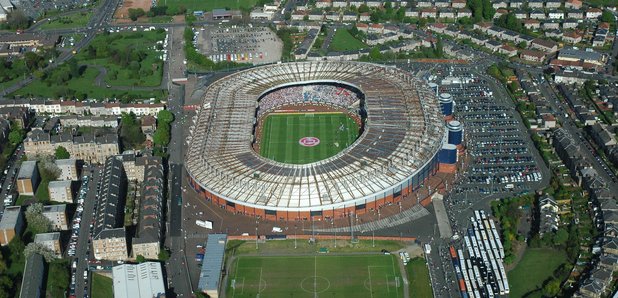 The football associations of the home nations have been fined by world governing body FIFA following last month's poppy row.
The Scottish Football Association's been handed a fine of 20,000 Swiss francs (£15,692) for the wearing of poppies on armbands by players and for booing God Save The Queen before the World Cup qualifier with England in November.

The English Football Association was handed the largest punishment, with a fine of 45,000 Swiss francs (£35,308) for several incidents.

The Football Association of Wales was fined 20,000 Swiss francs (£15,692) and the Irish Football Association 15,000 Swiss francs (£11,769) for related offences.

England and Scotland players wore armbands displaying poppies during their World Cup qualifier at Wembley on November 11. A number of other Armistice Day tributes also took place prior to the match.

FIFA had warned the associations the displaying of political symbols could be punishable ahead of the game but the FA and SFA both went ahead with plans for players to wear poppies. The FAW and IFA, for Wales and Northern Ireland matches against Serbia and Azerbaijan respectively, decided on plain black armbands for players but were still punished for displays of the poppy around the stadium. These included the wearing of poppies by players.

A statement from FIFA read: ''England has been fined CHF 45,000 for several incidents in the framework of the England v Scotland match, including the display by the host association, the English team and spectators of a political symbol and several cases of spectator misconduct.

''Scotland, as the visiting association, has been fined CHF 20,000 for the display of the same political symbol and cases of misconduct committed by its own group of spectators.

''Wales has been fined CHF 20,000 and Northern Ireland CHF 15,000 in relation to several incidents, including the display of political symbols in the context of the Wales v Serbia and Northern Ireland v Azerbaijan matches.''

FIFA bans political symbols and has made clear it considers the poppy to be one. The home associations argued it is no such thing.

Claudio Sulser, chairman of the FIFA disciplinary committee, said: ''With these decisions, it is not our intention to judge or question specific commemorations as we fully respect the significance of such moments in the respective countries, each one of them with its own history and background.

''However, keeping in mind that the rules need to be applied in a neutral and fair manner across FIFA's 211 member associations, the display, among others, of any political or religious symbol is strictly prohibited. In the stadium and on the pitch, there is only room for sport, nothing else.''

During the row, it also came to widespread attention that the Republic of Ireland wore shirts commemorating the Easter Rising in a friendly against Switzerland in March. FIFA has now announced that the Football Association of Ireland has been fined 5,000 Swiss francs (£3,923).