Scottish jobs fears after Carillion collapse
15 January 2018, 15:33 | Updated: 15 January 2018, 16:12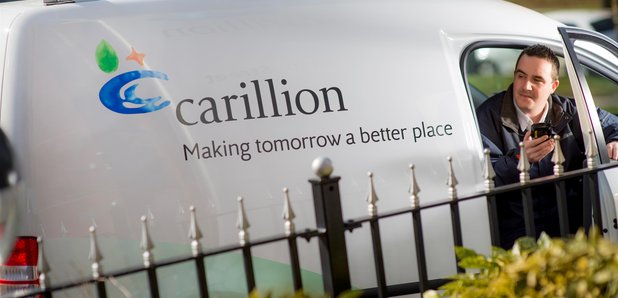 There are fears for Scottish jobs after construction giant Carillion entered into compulsory liquidation.
Talks were held throughout the weekend between government ministers and company officials in a bid to keep Carillion in business, but they broke up on Sunday evening without a deal.
The stricken firm, which employs 20,000 workers across Britain, has been struggling under £900 million of debt and a £590 million pension deficit.
It has seen its shares price plunge more than 70% in the past six months after making a string of profit warnings and breaching its financial covenants.
Its contracts in Scotland include The Aberdeen Western Peripheral Route (AWPR), Registers of Scotland, The Scottish Children's Reporter Administration, West of Scotland Housing Association and NHS Greater Glasgow and Clyde.
Network Rail awarded Carillion a contract last year to deliver platform extension works.
The Scottish Government said it expects work on the AWPR to continue and is holding discussions about other contracts.
Economy Secretary Keith Brown said: "Our first thoughts are with those Carillion employees who will be concerned for their jobs today and we are in discussions with the liquidators and the UK Government regarding the measures they intend to put in place regarding private sector, Network Rail and UK Government-backed contracts in Scotland to support Carillion employees and to secure the completion of these contracts.
"The Scottish Government has been working to manage or eliminate risks associated with Carillion's difficulties since July last year and we have contingency plans in place for affected contracts, including the AWPR, where the contract contains a mechanism for the remaining two joint venture partners to deliver the project, and we expect that work to continue.
"I have spoken to the Secretary of State for Scotland this morning and my officials have also spoken with PwC to establish the situation and should it be necessary we stand ready to support for any affected employees through our Partnership Action for Continuing Employment (PACE) initiative which aims to minimise the time individuals affected by redundancy are out of work."
Network Rail said it is activating its contingency plans as a result of the news.
The Scottish Building Federation (SBF) said the Scottish Government should ensure lessons are learned for future decisions on the procurement of large-scale construction projects.
SBF president Stephen Kemp, managing director of Orkney Builders, said: "The news that Carillion has now gone into liquidation has major ramifications for the UK construction sector.
"It should also stand as an important lesson for government that, when it comes to awarding public sector work, big is by no means always best.
"As a trade federation, we have long argued that the bundling of contracts into huge frameworks that only the very biggest companies can bid for is not only detrimental for small and medium-sized enterprise (SME) contractors that are unable to compete - it also creates big risks for government when something like this happens."
Scottish Conservative infrastructure spokesman Jamie Greene said: "Carillon operates across the whole of the UK, employs thousands of staff and has responsibility for a number of vital projects in Scotland.
"Ensuring the continuation of ongoing projects and that Carillon staff impacted by this decision are afforded a fair settlement must be the immediate priority."
Unite's Scottish Secretary Pat Rafferty said: "Given today's drastic events, it's clear that Carillion was legally obliged to give notice to the workforce in December of the possibility of redundancies.
"It hasn't done that. So, Unite is taking advice about legal action to secure the pay and pension rights of our members.
"Obviously, saving jobs is the priority but we also have to make sure that workers don't pay the price for what is boardroom recklessness."