Scots Politicians Oppose Trump Visit
30 January 2017, 09:21 | Updated: 30 January 2017, 09:23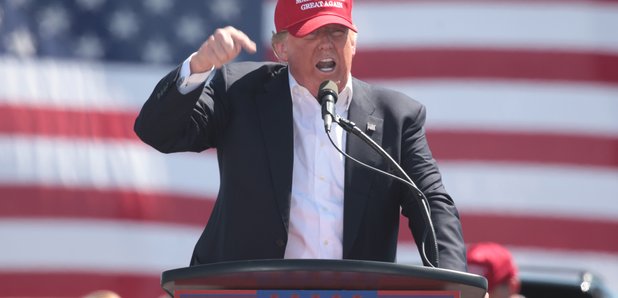 Scottish political leaders have said a state visit by US President Donald Trump would be wrong in the wake of his travel ban on refugees and people from several mainly-Muslim countries.
The US president accepted an invitation to visit Britain later this year, where he is due to be hosted by the Queen and would be treated to all the pomp and ceremony accorded to a state visit.
However there have been calls to cancel his trip amid a growing backlash against the travel ban.
The executive order signed by Mr Trump has imposed a 90-day ban on entry to the US for nationals from Iraq, Syria, Iran, Sudan, Libya, Somalia and Yemen.
No 10 said Prime Minister Theresa May did ''not agree'' with the policy and would act to help UK citizens.
A petition calling for Mr Trump to be prevented from making a state visit to the UK hit 100,000 signatures at about 12.30pm on Sunday - meaning it could now be selected for debate by MPs.
Politicians in Scotland took to Twitter to air their views with First Minister Nicola Sturgeon tweeting: "For those asking my view on US State visit: would be wrong for it to go ahead while bans on refugees & citizens of some countries in place.''
Scottish Tory leader Ruth Davidson posted a comment after she was asked her position on a US state visit under the current conditions.
She wrote: "State visits are designed for both the host, and the head of state who is being hosted, to celebrate and entrench the friendships and shared values between their respective countries.
"A state visit from the current President of the United States could not possibly occur in the best traditions of the enterprise while a cruel and divisive policy which discriminates against citizens of the host nation is in place.
"I hope President Trump immediately reconsiders his Muslim ban.''
Scottish Liberal Democrat leader Willie Rennie tweeted: "Talk to Donald Trump but a state visit would shame U.K. He does not honour the Presidency so we should not honour him. #nostatevisit.''
Meanwhile External Affairs Secretary Fiona Hyslop has written to Foreign Secretary Boris Johnson to voice her "deep concern'' about the ban.
She mentioned the case of Glasgow-based vet Hamaseh Tayari, who holds an Iranian passport and found herself stranded on holiday in Costa Rica as she could not fly home via New York.
Ms Hyslop wrote: "I urge you to make the strongest possible representations to the US Government about the effect this order is already having, and will have, on people living and working here who were born abroad.
"More broadly, we should be crystal clear in opposing the imposition of blanket bans on people on the basis of their birthplace, nationality or religion because it is divisive and fails to distinguish between appropriate measures to deal with extremism and the millions of people who merely wish to go about their lives in peace and safety.
"We should also reassert the obligation of the international community to give refuge to people fleeing war and persecution.''
She said that Ms Sturgeon will raise the issue with Mrs May when they meet on Monday as they attend the Joint Ministerial Committee (JMC) in Cardiff.