Scots Income Tax Rate To Be Set
16 December 2015, 06:00 | Updated: 30 March 2016, 13:50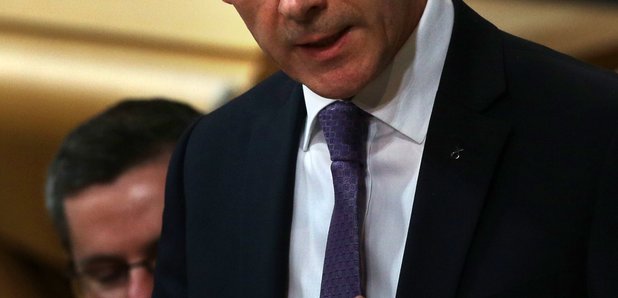 Holyrood's Deputy First Minister will disclose for the first time what the proposed Scottish rate of income tax is to be set at.
John Swinney will announce his Budget for 2016-17 to MSPs this afternoon, having already warned that "tough choices'' are ahead.
For the first time, Holyrood's Budget will set income tax rates for Scotland, with the change being made as a result of the 2012 Scotland Act
The Scottish rate of income tax comes into effect on April 6 and will be paid by UK taxpayers who live in Scotland, regardless of where they work.
Income tax will be reduced by 10p in the pound for Scottish taxpayers, but they will then have to pay a new Scottish rate which could be 10p, or more or less than 10p.
Mr Swinney is widely expected to keep income tax north of the border in line with the rest of the UK.
But he said the decline in the amount of money Scotland receives from Westminster puts "significant pressure'' on funding for public services.
The UK Government insists its recent spending review will see the block grant rise to almost £30 billion by 2019-20, with a 14% real terms increase in capital spending over the next five years.
However Mr Swinney said: "As a consequence of UK Government spending decisions, the Scottish Budget will continue to fall in real terms - as it has done since 2010 - until the end of this decade.
"That places a significant pressure on the funding of our public services and requires us to continually reform the way in which we deliver those public services.''
He stressed he is "determined to protect key priorities such as schools, hospitals and police'' in his spending plans for next year.
The Deputy First Minister said: "The Scottish Government will defend and protect the key priorities that the people of Scotland expect us to deliver on.
"Critical pillars of Scottish life - our schools, hospitals and police - will not be sacrificed to the Chancellor's austerity obsession.
"In recent years we have been able to deliver better outcomes for the people of Scotland. More police, lower crime, better schools, tuition-free university education and a health budget that is at a record level.
"We are working to create a more inclusive economy, where every individual can fulfill their potential. That approach will be central to our Budget plans.''
Scottish Labour said further income tax raising powers coming to Holyrood from April 2017, when MSPs will get control over tax rates and bands, meant in future Scotland would be able to "take a different path from Tory austerity''.
Public services spokeswoman Jackie Baillie said: "This will be the most important budget John Swinney has delivered in his eight years as Finance Minister.
"With major new tax and welfare powers coming to Scotland, the SNP Government must set out detailed plans for closing the gap between the richest and the rest in Scotland.''
Labour is calling on the the SNP administration in Edinburgh to set out how much Scottish Government departments will have to spend over the next three years.
In addition it wants the bulk of the £400 million due to Scotland as a result of last month's UK spending review to be invested in social care services.
Ms Baillie stated: "We need an anti-austerity budget for the long-term. The public will see through any attempt by the SNP to just get through the next election. Hiding cuts or tax rises until after votes are cast in May just won't be acceptable.
"A budget for the long-term would invest in social care in Scotland today.
"Thousands of elderly people end up in hospital because the support isn't there for them to be looked after at home or in the community.
"That costs the NHS hundreds of millions of pounds a year and takes away independence from too many people. We need to invest in our health service so we have an NHS fit for the 2040s, not the 1940s.
"Giving care workers a living wage is the right thing to do.
"It would not only increase the pay for care workers, but improve the standard of care for elderly people who need support.
"It was shameful that the SNP voted against Labour's plans for a living wage in Parliament last week. John Swinney should reverse his opposition to a living wage for care workers in his budget today.''