Scots Gov To Tackle Mental Health
4 September 2018, 17:16 | Updated: 4 September 2018, 17:19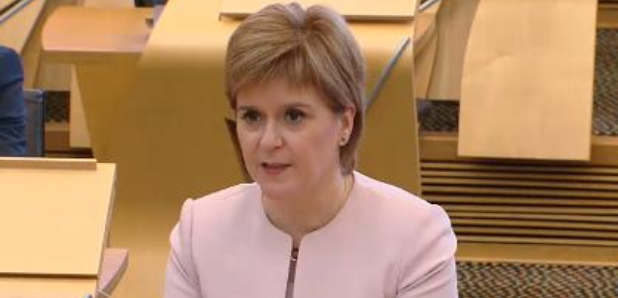 A package of new measures aimed at improving mental health in Scotland has been announced by Nicola Sturgeon as she set out her vision "of the kind of country we want to be".
The First Minister said the measures, including making sure every secondary school north of the border has a counselling service, would be backed by £250 million of extra investment over the next four years.
As part of this £30 million will be invested in school nurses and counselling, while plans will be developed to ensure young people with the most serious mental illnesses get fast-tracked care.
Overall Ms Sturgeon said her proposals for the coming year at Holyrood - including support for businesses and measures to help bring about a low carbon economy - showed her government was "focused on delivering for today and investing for tomorrow".
There was a pledge the Scottish Government would increase infrastructure spending on schools, hospitals, transport and other areas by £7 billion by 2026.
Ministers will introduce 12 new bills in the coming year, she said, but with 13 pieces of legislation still to be passed from last year Scottish Conservative leader Ruth Davidson branded the programme for government a "hangover from last year".
She added the proposals contained "plenty of well-meaning soundbites, but little of substance to transform Scotland's economy, local services or justice system for the better".
Ms Davidson said: "We are halfway through this parliament, and have fewer than 1000 days to the next Scottish election. If the First Minister wants to make meaningful change, she needs to get a move on.
"She also needs to stop the headline-chasing, knee-jerk short-term-ism that is the hallmark of her government."
She however welcomed the improvements on mental health services for young people, which will see secondary schools will get 350 counsellors and an additional 250 schools nurses.
Ms Sturgeon also promised 80 counsellors to work in colleges and universities, adding a community mental wellbeing service for five to 24-year-olds would be set up to provide "immediate access to counselling".
The details came just after official figures revealed waiting times for child and adolescent mental health waiting times reached their worst ever between April and June.
Ms Davidson demanded: "Why has it taken until the day we see the worst ever waits on record for children to receive treatment before the government acts?"
Meanwhile Labour's Richard Leonard said this year alone more than 2,500 youngsters had waited more than the Scottish Government's 18-week target time for mental health treatment.
"The system needs to change and I hope that today is the first step towards doing that," the Scottish Labour leader added.
With the UK due to formally leave the European Union in March 2019, Ms Sturgeon said her programme for government - unveiled on the day MSPs returned to Holyrood - was taking place "in the shadow of Brexit".
The SNP leader pledged her ministers wold continue to fight to keep Britain in both the single market and the customs unions, as she blasted Theresa May's government's "shamefully shambolic" handling of the negotiations.
To try to help firms, Ms Sturgeon pledged £20 million of spending to try to boost overseas exports, and also committed to new legislation to set up an enterprise agency for the South of Scotland region.
Plans to set up a Scottish National Investment Bank will also be taken forward in a new Bill, she said.
Three main contracts aimed at ensuring every home and business premises can access super fast broadband are to be awarded over the coming year, with the First Minister hailing this "£600 million pledge of truly universal coverage" as being "unmatched anywhere in the UK".
Meanwhile £15 million will be spent to install 1,500 new charge points for electric vehicles, with a loan fund set up to encourage businesses and individual motorists to make the switch to greener vehicles is being increased from £8 million to £20 million.
That was promised after figures showed Scots were making more journeys by car while bus and cycle use is declining.
"Installing more electric charging points will do nothing to change that," Scottish Green co-convener Patrick Harvie said.
Scottish Liberal Democrat leader Willie Rennie branded the SNP plans for the coming year as being "light on substance".
He told MSPs: "I suppose every Government runs its natural course. Based on this programme, this Government's sell-by date is well past."