Scotrail Defends 2.8% Train Fares Rise
30 November 2018, 17:37 | Updated: 30 November 2018, 17:50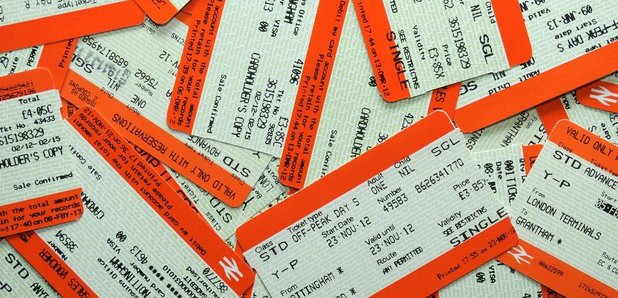 Rail passengers in Scotland are "treated as an afterthought", it has been claimed, as ticket prices are set to rise by an average of 2.8% next year.
ScotRail said the increase was below the UK average of 3.1% and comes as the operator invests "millions of pounds to build the best railway Scotland has ever had".
The cost of peak-time season tickets and anytime day tickets in Scotland will rise by 3.2% from January 2 while off-peak and off-peak day tickets will increase by 2.2%.
Across the UK as a whole, the cost of many season tickets will increase by more than £100 next year as average fares go up 3.1%.
The increase was announced by industry body the Rail Delivery Group (RDG) and is regulated by the UK, Scottish and Welsh governments.
Following the announcement, Scottish Greens transport spokesman John Finnie reiterated calls for nationalisation of Scottish railways.
He said: "Rail passengers in Scotland far too often suffer delayed, cancelled and overcrowded trains so to ask them to pay a significantly increased fare for a poor service is wrong.
"While the Scottish Government's transport spending remains focused on new roads, we will continue to see rail commuters treated as an afterthought.
"Public ownership of this public service can't come soon enough."
Scottish Labour's transport spokesman Colin Smyth said: "It is simply wrong for commuters to have to pay more for train services, which are plagued by delays, cancellations and stop-skipping.
"It is time rail users stopped having to pay such excessive fares to line the pockets of private companies.
"Labour will bring our rail services into public ownership and get our transport system back on track."
Liberal Democrat Mike Rumbles said: "Yesterday, it was revealed that ScotRail have refunded customers 65,000 times already this year for late trains.
"We will never tempt motorists out of their cars and on to public transport if this is what they have to look forward to."
A Scottish Government spokeswoman said: "We recognise fares increases are unwelcome, particularly when performance falls short of passengers and ministerial expectations.
"The impact on passengers has been minimised by capping increases for regulated ScotRail peak fares at the level of the retail price index and regulated off-peak fares 1% lower than inflation.
"This means, in Scotland, average fares increases are lower than England and Wales.
"We await the RDG's proposals for industry change, resulting from its recent consultation on rail fares, which we will consider together with the interests of Scottish rail passengers and taxpayers."
ScotRail said passengers will see improvements with electric trains and new timetables.
A spokesman said: "Eighty-five per cent of our revenue comes from fares set by the Scottish Government, which decides how much our customers pay.
"We are investing millions of pounds to build the best railway Scotland has ever had.
"The introduction of brand new electric trains, and the first of our upgraded InterCity trains connecting Scotland's seven cities, means customers benefit from more comfortable journeys.
"The new timetable improvements in early December will deliver another milestone and will mean faster journeys, more seats and more services for our customers."