Scotland's Steph Twell looks to Commonwealth Games
13 January 2018, 07:19 | Updated: 13 January 2018, 07:24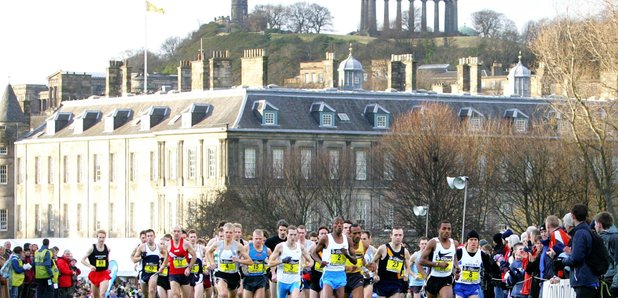 Team Scotland runner Steph Twell admitted the Great Edinburgh Cross Country race will be all about preparing herself for this year's Commonwealth Games.
The 28-year-old, who will compete in the 5,000m and 1500m events on Australia's Gold Coast, is part of a Scotland team that will take part in the 4x1km relay around the Holyrood course on Saturday.
And while she will be taking it seriously, Twell admitted it is all preparation geared towards peaking for April.
"It's a bit of a mixture," she said. "With it being a 4x1km relay it will be tense. I have only done it once.
"Carrying a baton over cross country will be interesting and knowing Laura Muir (who she will be taking on in the final leg) will be on my heels is going to be interesting.
"That element makes it a bit serious, but at the same time it's the start of the year so it's a great way to get our heels a little bit sharper ahead of the Commonwealth Games where that will be a little bit more performance driven."
She added: "It would be fantastic to win it if we can, but from my own personal perception outside of the race, I'm starting to put the pedal down and cut down into the distance and get the speed for a championship.
"The Commonwealth Games is a championship performance and this is a great start for me."
The Games mark another major championship for Twell, who has been to 12 so far in her career but due to circumstance has often not been at her best, with injury hampering her at home in Glasgow four years ago.
But after doing a teaching degree last year the 28-year-old has now gone full-time with her career and insisted there are no plans to call it time on the track just yet, despite setting herself up for a career post-athletics.
"I am in a good place," she said. "Last year I was doing a teaching degree which was probably not the best for performance, but at the same time so I can have a longer running career, I need
to increase my skill-set and I am really happy and have gone full-time now."
On her teaching qualification, she added: "It is setting me up for after my career, because it's 10 years since I was at uni and I think I am maybe halfway (through my running career) with another
10 years if I go to the roads and the marathon."
On the prospect of taking on Muir - who will be representing Great Britain rather than Scotland on Saturday - in the final leg, Twell added: "I think it will be super exciting.
"It's a great opportunity to get as close to Laura as I can!"