Scotland Reeling After Last Gasp Penalty
19 October 2015, 07:18 | Updated: 30 March 2016, 13:50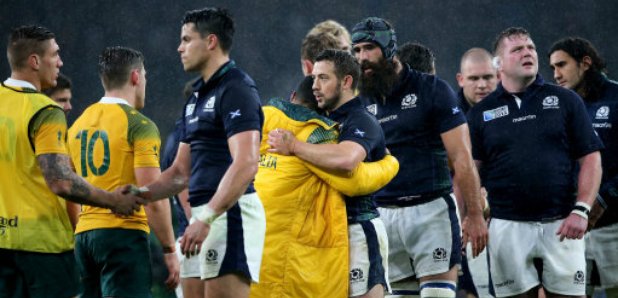 Scotland are reeling from the injustice of being denied a place in the World Cup semi-finals by Craig Joubert after the South African referee awarded Australia an incorrect last-gasp penalty.
The Wallabies left Twickenham with a 35-34 victory sealed by Bernard Foley's penalty with 43 seconds remaining, but the decision-making of Joubert overshadowed one of the tournament's greatest knockout games.
Joubert blew the final whistle at Twickenham and then sprinted from the pitch amid a crescendo of boos, knowing he had made a hugely-unpopular call by penalising Scotland for accidental offside, which was later proved to have been awarded erroneously.
World Rugby responded to dismay over why the TMO was not consulted by stating that the technology can only be used for the act of scoring a try or an act of foul play.
Dejected Scotland captain Greig Laidlaw, who kicked 19 points, highlighted Joubert's uncertainty when making the decision that denied the RBS 6 Nations representation in the semi-finals for the first time in World Cup history.
"I asked Joubert (about the penalty) on several occasions. I'm not sure what the protocols are,'' Laidlaw said.
"I think you can see from the way he was taking his time....he was certainly having a look at the big screen and wasn't sure himself.
"And then he made a sharp exit at the end of the game, that's for sure. I never got a chance to speak to him after the game, he was off that quick.
"It looked like to me that it hit Nick Phipps and it went back and then another player caught it. I've not had a chance to look at it on the TV, but at the time I thought there was an Aussie arm. But we're not the type of people to blame the little things.''
Australia scrum-half Nick Phipps admitted after the match he had deliberately attempted to win the loose ball that then struck Scotland openside John Hardie, his intent clearing Hardie of accidental offside.
"I think everyone was trying to win the ball. We were all going for it,'' Phipps said.
Joubert's judgement and rapid departure from the field provoked a furious response from former players of all nationalities.
Scotland great Gavin Hastings said: "If I see referee Craig Joubert again, I am going to tell him how disgusted I am. It was disgraceful that he ran straight off the pitch at the end like that.''
Also among the many outraged voices was former England scrum-half Matt Dawson, who said on Twitter: "Craig Joubert you are a disgrace and should never referee again!! How dare you sprint off the pitch after that decision!!!''