Scotland Braced For Wind, Snow And Lightning
21 December 2016, 06:33 | Updated: 21 December 2016, 07:06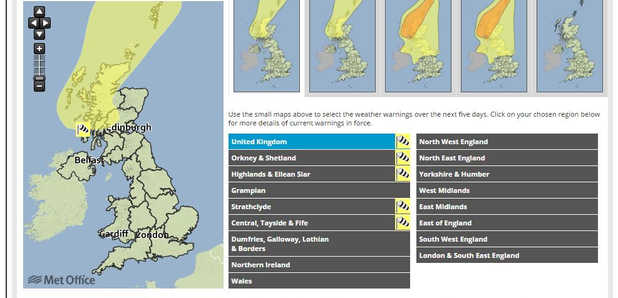 Strong winds and lightning could cause disruption to travel and power supplies across some parts of Scotland, forecasters have warned.
The Met Office has issued yellow "be aware'' warnings of wind for much of Scotland which are valid from 6am on Wednesday until 6pm on Thursday.
Cold and blustery westerly winds are expected to bring heavy and frequent wintry showers across northern and western Scotland on both days.
Gales are likely at times along the west coast and the Northern Isles with winds gusting to around 55mph, while snow is expected on upland areas, with 5cm to 10cm possible on higher routes across the western and central Highlands.
The Met Office said frequent lightning may be an additional hazard across the Northern and Western Isles and the west coast in particular with the potential for disruption to power supplies.
Stormy conditions are expected to continue up to Christmas as Storm Barbara arrives at the end of the week.
Met Office spokeswoman Nicola Maxey said: "There will be blustery westerly winds coming through with heavy frequent wintry showers and we could see accumulations of snow on higher ground and maybe some slushy stuff at lower levels.
"We also expect some lightning and the chance of some icy roads. The lightning could also affect power supplies and there may be some power cuts.
"That is a weather system that is coming through from Wednesday to Thursday.''
The Met Office has issued a severe amber storm warning which lasts from midday on December 23 until 6am on Christmas Eve.
Forecasters said Storm Barbara's arrival could bring structural damage or overhead wire problems in the north of Scotland, with lightning joining snow in the weather mix, while travel and ferry services could be disrupted.
Drew Collier, operations director at ferry operator Caledonian MacBrayne, advised passengers to visit the company's website or follow its Twitter feed for the latest information.
He said: ''The west of Scotland is facing storms and high winds in the run-up to Christmas and the start of the following week.
''We would advise anyone planning to travel by ferry over the holiday period to take this into account and plan accordingly.''
Disruption to the transport network and restrictions on road bridges and cancellations at airports are also expected.
Transport minister Humza Yousaf said: ''Our National Traffic Control Centre will be operational across the period with our multi-agency response team active on the days leading up to Christmas.
''Ferries are particularly susceptible to disruption due to high winds and we may also see some disruption to flights.
''Those planning to fly or use ferries this festive period should check with their operators for the latest information and consider the forecast as part of their plans.''
Mr Yousaf said additional staff and specialist equipment would be brought in to deal with effects on the railways.
He added: ''Our operating companies will be out on the network to clear any debris from the trunk roads and to make sure that the risk of any flooding is minimised where possible."