Safari Park Keeper Gives Animals Stamp Of Approval
24 August 2017, 12:22 | Updated: 24 August 2017, 12:29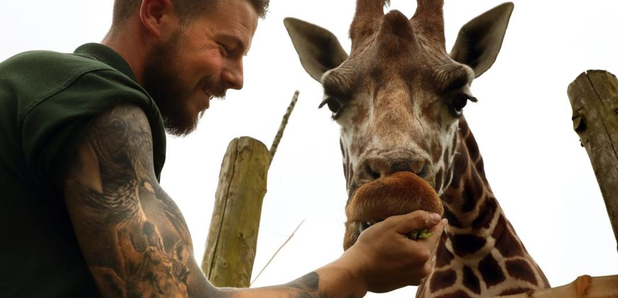 A safari park keeper has shown his affection for the animals he looks after by having their pictures tattooed on his arm.
Graeme Alexander, who works at Blair Drummond Safari Park near Stirling, has tattoos of elephant Mondy, giraffe Ruby, zebra Spot and rhino Graham.
The 27-year-old also has one of a lion based on those at the park, although he has not worked with the animals.
He will also soon have one of a lion cub as a nod to his four-year-old son.
Mr Alexander said: "I've always wanted a sleeve tattoo, so I thought I'd get the animals that I work with as it has more meaning behind it rather than just random ones.
"I always wanted five animals and decided to get a lion as the last one, and I have a son so I'm getting a lion cub to go with the lion.
"I'm quite passionate about my job, so it has more meaning than choosing random pictures."
Mr Alexander had the tattoos done at Santa Cruz Kustom Club in Stirling, where artist Tamas Dikac created them based on photos of the animals.
The large mammals keeper has worked at Blair Drummond Safari Park for six-and-a-half years.