Ruth Davidson expecting baby in the Autumn
27 April 2018, 06:23 | Updated: 27 April 2018, 06:26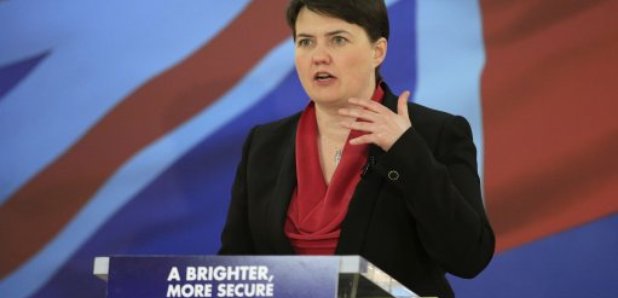 Scottish Conservative leader Ruth Davidson admits she cannot stop smiling as she revealed she is pregnant with her first child.
She spoke of her delight after announcing that she and partner Jen Wilson will welcome their new arrival in late Autumn.
Ms Davidson says she and her partner since 2014 are "excited and daunted" about the months to come and are "over-joyed" at the prospect of starting a family together.
The 39-year-old politician said the news does not change her political commitment or her plans to lead the Scottish Conservatives into the 2021 Holyrood elections, stating that she is "simply doing what thousands of working women do every year".
Ms Davidson, who has made no secret of her desire to be a mother, found out in March that an IVF procedure had worked.
She said there had been "ups and downs" along the way, but added: "We're just delighted that it's been successful. We're really looking forward to starting our family.
"We weren't sure that it was going to happen for us, but we're really, really happy that it has."
Asked how she felt when she was told the good news, she said: "Just really relieved, actually, because it's quite a lot of stress and pressure.
"You're just hoping so hard and you're trying to not allow yourself to hope in case it's bad news. I actually can't keep the smile off my face."
She told how, as someone who "wears my heart on my sleeve", she has struggled to keep the news quiet until now.
Ms Davidson revealed that she has been affected a little by morning sickness, fatigue and dizzy spells, but says it will be "business as usual" until she goes on maternity leave, hitting her work commitments with "customary gusto".
She revealed she had one such spell shortly before a weekly head-to-head with Nicola Sturgeon at the Scottish Parliament.
"I was on my way up to First Minister's Questions. I go in, I sit down, I'm there for a good 30 seconds before I get up and walk right back out again just in case.
"But I was OK, it was fine and I don't think anyone noticed. It's all very natural and I think from now on it's supposed to get a little bit better."
Ms Davidson's deputy within the party, Jackson Carlaw, will hold the fort for a few months while she is on maternity leave - although she admits she is unlikely to able to stay off the phone, "demanding regular updates" during this time.
The couple plan to be working parents, who will share parental leave, and Ms Davidson expects to be able to return to work fully in the Spring as she combines her public role with a family life.
"I think it will change the way in which I do my job. But I don't think it should look as if I've changed the way I do my job," she said.
"Time management is going to have to be a little bit different."
She added: "Let me reassure my constituents and voters across Scotland that there is no change to my political commitment or plans to lead the Scottish Conservatives into the 2021 Holyrood elections.
"I'm simply doing what thousands of working women do every year - having a child, taking some time off, and then returning to work soon after."
Both Ms Davidson and her partner are already aunties many times over and say the youngsters in the family are all excited that they will have a new cousin to "join the clan".
The couple, who say they are incredibly lucky in the support they have received from their family and friends, have no plans to release the first scan of the baby.
"We're going to keep baby's first picture just for us," she said.
"But everything is great - little snub nose, it's nice."
She said that with the due date only a few weeks away from the UK party conference in October, she may have to pack an emergency hospital overnight bag for the event "just in case".
The couple's wedding was previously delayed after vet bills for their beloved dog "wiped out our wedding fund", but they are still planning to tie the knot in the future.
"I think I might like to try and lose some baby weight first if that's all right," she quipped.
"I think it might be after (the birth) rather than trying to crowbar it in before."
Asked whether she sees herself as a role model for other same sex couples, she said: "I think it's important that people realise that this happens and that it's normal.
"Hopefully this takes some of the taboo or mystery away from it.
"But I have to say when we were thinking about this, Jen and I were very much focused on our own family. We weren't necessarily focused on making a political statement.
"This was the fact that we always, both of us, wanted to have children and we're just delighted that we are able to do so."
Prime Minister Theresa May tweeted her congratulations following the announcement, saying: "Wonderful news! I'm very happy for you and Jen."
Nicola Sturgeon said: "Many congratulations to Ruth Davidson and her partner Jen on their lovely news. The baby box is on the way!"
Scottish Secretary David Mundell said: "This is wonderful news and I know everyone across Scotland will want to congratulate Ruth and Jen on this news. They are a great couple and I know they are going to make terrific parents."