Rugby Star Backs Country Roads Campaign
7 October 2015, 15:03 | Updated: 30 March 2016, 13:50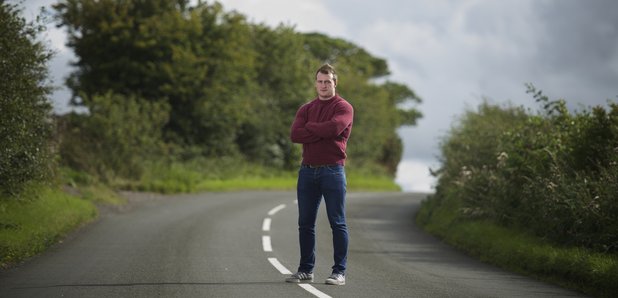 Scotland rugby star Stuart Hogg is fronting a new campaign to cut the number of deaths on country roads after losing his best friend in a crash.
Richard Wilkinson was 17 and a front-seat passenger in a car when it crashed off a Borders road in 2009.
Hogg was in the back of the car and believes he is lucky to have survived.
He is now backing a government campaign urging drivers to watch their speed on country roads.
Last year, 755 people were killed or seriously injured while driving on country roads, with the vast majority of victims male.
A new TV advert shows a young man losing control of his car on a rural road and crashing into a wall.
The advert focuses on what victims can miss out on after a serious crash with a series of mobile and social media notifications popping up while the man is treated by medics, with the strapline: "Don't miss what's round the corner. Watch your speed on country roads.''
Scotland and Glasgow rugby player Hogg said: "Losing my best mate Richard will live with me forever and was one of the hardest things I've ever had to go through.
"It could have easily been me and I think about him every day and all of the things he's missed out on.
"Seeing the filming of this ad has stirred up a lot of emotions but for me I hope I'm doing Richard and his family proud by supporting the campaign.''
Transport minister Derek Mackay said: "We are committed to achieving safer road travel in Scotland for everyone and clearly we are heading in the right direction.
"However we still have a long way to go, particularly with younger male drivers.
"This campaign encourages motorists in Scotland to drive at an appropriate speed for the conditions, particularly on country roads as there is a higher proportion of fatalities in rural areas.''
The campaign is running across the country on TV, cinema, radio, social media and outdoor advertising.
Superintendent Fraser Candlish, of Police Scotland, said: "We are urging drivers to take extra care on country roads as you never know what hazards are waiting round the corner or when something unexpected might happen.''