Roads and schools hit as wintry showers sweep Scotland
16 January 2018, 11:35 | Updated: 16 January 2018, 11:37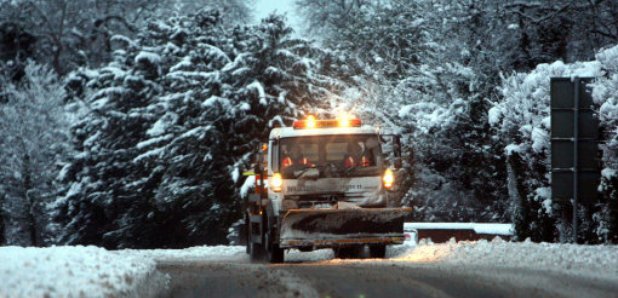 Motorists faced treacherous driving conditions and dozens of schools have been closed as sub-zero temperatures and snow hit the UK.
Wintry showers swept in overnight with the Met Office issuing yellow warnings for snow and ice across much of Scotland and Northern Ireland.
In areas that saw snow, temperatures dropped to 0C-2C (32F-36F).
Tulloch Bridge in Scotland had the largest snowfall with 8cm overnight.
Gritters were out in force across Scotland, with pictures on social media showing particularly difficult driving conditions on the M8 near Easterhouse.
Drivers were asked to avoid the M8 after long delays were reported during rush hour.
Snow and sleet affected many roads in Scotland including the A9, M9, M80, A720, M77, A7 and M73.
The A9 at Dalwhinnie was closed for two hours after a lorry jack-knifed close to the snow gates.
More than 50 schools and nurseries in the Highlands have been closed due to the weather with over 3,000 children enjoying a snow day.
A number of schools in South Lanarkshire and Dumfries and Galloway have also been affected.
Northern England and Northern Ireland have also seen flurries of snow, with 1cm reported in Lough Fea, Northern Ireland, and further accumulations expected through the day.
Luke Miall, a forecaster at the Met Office, said: "The forecast for today is it's likely to become a bit more wintry, so we could be seeing snow for many areas, with northern and western areas seeing frequent showers."
There is a greater chance of snow further south across parts of Wales and the possibly the Midlands later into Tuesday, forecasters said.
A snow and ice warning is in place for these areas, with 2cm-6cm of snow expected over the hills and 1cm-2cm at lower levels.
Mr Miall added: "It will stay cold, we will continue to feel that wind from the north west, quite gusty, so feeling bitterly cold outside today."
Showers are expected to continue into the night with wintry falls on Wednesday, especially across the north.