Richard Leonard New Scottish Labour Leader
18 November 2017, 12:18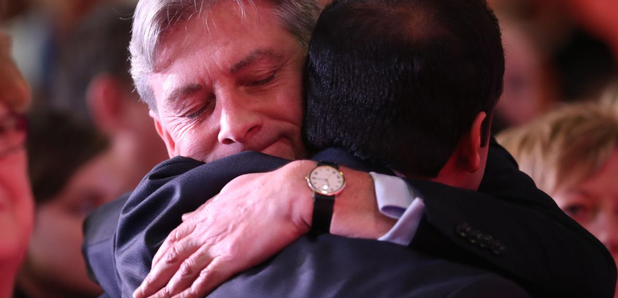 New Scottish Labour leader Richard Leonard has said his election sends a "message of real change".
The left winger became the fourth person to hold the post in the last three years after defeating rival candidate Anas Sarwar.
Mr Leonard, who only became an MSP last year, was the choice of 12,469 party members and supporters, while 9,516 backed Mr Sarwar.
He said: "Our shared purpose is clear. To build again, to win again, so that our purpose today is not just electing a leader. My aim is to be the next Labour First Minister."
Anas Sarwar said: "I congratulate Richard on his victory. He has my full and unwavering support, and I look forward to campaigning with him to return a Scottish Labour government.
"Our party will now unite around our new leader because we all share the same burning desire to elect a Scottish Labour government that works for the many, not the few.
"I am immensely proud of my positive campaign, which put forward new, radical, bold policy ideas, and always remembered who our real opponents are: the SNP and the Tories.
"I would like to thank the thousands of members and trade unionists who voted for me, and the hundreds who volunteered to help the campaign. I have a deep sense of pride about what we have achieved. I'm sorry I couldn't do it for you, but I look forward to campaigning with you in the weeks, months and years ahead."
Labour Jeremy Corbyn congratulated Mr Leonard on being elected, and Mr Sarwar on his energetic campaign.
He said: "After being written off time and again, the general election showed that our party is capturing the mood both in Scotland and across the rest of the UK.
"There is much to do to continue our party's revival in Scotland and many who still need to be persuaded to put their trust in the Labour Party.
"But Richard's campaign offered a challenge to the rigged system that has benefited a wealthy elite and showed how he will lead Scottish Labour to transform society.
"This can be a turning point in Scottish politics and our party will now come together, united to challenge Tory and SNP austerity that has held Scotland back.
"I am confident that under Richard's leadership, Labour will once again be a real force for change in Scotland.
"I look forward to campaigning with him in Scotland next week as we build a movement that will help our party win in Holyrood and Westminster, to transform our country for the many not the few."
John Hannett, general secretary of the shopworkers union Usdaw, said: "Richard Leonard is a committed trade unionist and understands the real change that Scotland needs, so we are delighted that he won the support and confidence of Labour's members and affiliated members in Scotland.
"The SNP government are failing to deliver social justice, tackle poverty and address the crisis in health and education, our members need Labour in power to deliver change.
"I know that Richard does not underestimate the challenge ahead for Labour, and Usdaw will be working with him to help improve Scottish workers' lives."
"This leadership election has shown that a re-invigoration of our politics in Scotland is both needed and yearned for by the people.
"We need a vision of a better future, a vision of hope again, so that 20 years on since the devolution referendum we need to restate our Scottish Labour vision for the economic, social and environmental transformation we want to deliver for the people of Scotland."
Mr Leonard spoke out as he addressed party activists at Glasgow Science Centre, where the result of the leadership contest was announced.
He immediately pledged "zero tolerance" of sexism, misogyny and sexual harassment.
"We need to change the political culture," Mr Leonard declared, as he vowed to set up independent route for complaints of this nature.
He stressed that under his leadership the party would be "distinctively Labour, confidently Labour".