REVEALED: Capital Discovers Police Scotland Officers Are Using Controversial 'Spit Hoods'
7 September 2016, 06:27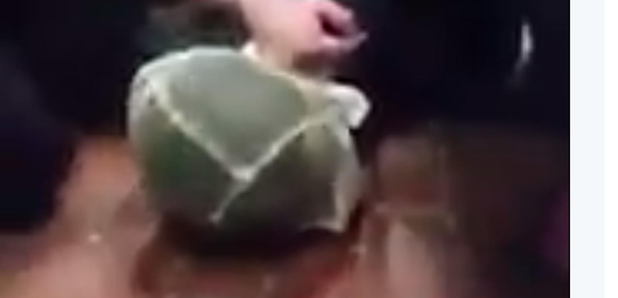 Capital has discovered Police Scotland are using controversial 'spit hoods' when restraining suspects.
Mesh masks are put over the heads of criminals to protect officers from spitting and biting.
However, human rights campaigners say the hoods "belong in horror stories".
Police Scotland told Capital all officers and special constables receive special training in their use.
Connor Gillies reports
Liberty campaign group director Martha Spurrier described the hoods as "primitive, cruel and degrading" tools "that inspire fear and anguish" and "belong in horror stories".
She said: "We have seen many cases where the police use them unnecessarily and without justification, including on children and disabled people.
"Police have the power to use force against citizens when they have to - using handcuffs, arm restraints, leg restraints, pepper spray, batons.
"The suggestion that officers need to be able to cover people's faces and heads is as far-fetched as it is frightening."
British Transport Police officers were filmed using one on a man at London Bridge station - an incident which is being investigated by the Independent Police Complaints Commission (IPCC).
Oliver Sprag from Amnesty International claims told Capital can be "deeply distressing and humiliating".
In June, Sussex Police came under fire after it emerged officers had used one of the hoods - along with handcuffs and leg straps - on an 11-year-old disabled girl.
The girl was arrested three times and detained under the Mental Health Act once during a month-long period in 2012.
The force failed to provide an appropriate adult to accompany her on the four occasions she was held in a police cell.
IPCC investigators concluded that 11 officers had a case to answer over their contact with the girl, who endured a "nightmare" experience, according to her mother.
But the Sussex Police Federation defended the officers involved in the case, saying that, despite her age, the girl "displayed a high level of violence" and restraint was necessary to prevent her harming herself or others.
Police Scotland Superintendent Chris Stones said: "Spit hoods are used by Police Scotland. All Police Scotland Officers and Special Constables receive training in their use.
"They are used appropriately and proportionately to help keep our officers and those being restrained, safe."