Red-Surfaced Cycle Lanes To Be Installed Around Edinburgh Tram Tracks
29 September 2017, 07:07 | Updated: 29 September 2017, 07:09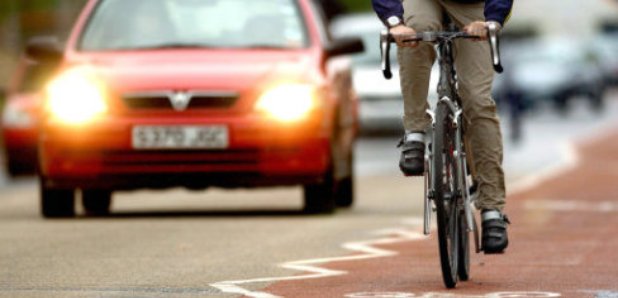 New cycle lanes are to be installed in Edinburgh city centre to improve safety around tram tracks.
The red-surfaced lanes will demonstrate the "optimum angle for crossing the tracks" and are the first in a project to help all road users, the city council said.
It comes after the death of cyclist Zhi Min Soh who was hit by a bus when her wheel got stuck in tram tracks in the capital in May.
Edinburgh City Council said experts were reviewing safety at that time and councillors approved action at key city centre locations over the summer.
The initial measures, which will go before the council's Transport and Environment Committee next week, involve new road markings at York Place into Elder Street, Shandwick Place into Queensferry Street, and Princes Street on to Waverley Bridge, South St David Street and Frederick Street.
Transport Convener Lesley Macinnes said: "Road safety is one of the Council's top priorities and we've been working very closely with cycling groups for many months on ways to help make it easier for cyclists to safely cross tram tracks in the city centre.
"The measures we've been able to bring forward as Phase 1 will help demonstrate the safest angle to cross the tracks at five key points along the route, something which we know will be especially welcomed by less confident cyclists.
"We're emphasising that this is about all road users looking out for each other to keep themselves and each other safe.
"Drivers need to make sure they give cyclists plenty of time and extra space to get into the position they need to be in to cross the tram tracks safely and cyclists need to clearly signal - as early as possible - what they plan to do.
"By looking out for each other, we can ensure we all reach our destination safely."
The red-screeded cycle lanes are aimed to avoid tyres slipping or getting stuck.
The changes will be highlighted in a campaign urging all road users to "look out for each other" with drivers advised to give cyclists extra space around tram tracks and cyclists asked to get off their bike and walk if struggling to cross tracks.
Earlier this month, the business case for extending Edinburgh's tram network was approved by councillors.
A tendering process will now get under way to secure a potential contractor partner for the project, which would see the line taken to Newhaven.
No final decision on the plans will be made until autumn 2018.
Council leader Adam McVey said: ''Given the rate of growth forecast for Edinburgh over the coming years, we simply cannot stand still.
''And yet we can't proceed with work to take trams down to Newhaven unless we're 100% certain we've rigorously scrutinised the business case and taken on board crucial lessons from the first phase.''