Red Carpet Rolled Out For Kevin Bacon In Edinburgh
23 June 2017, 07:07 | Updated: 23 June 2017, 07:09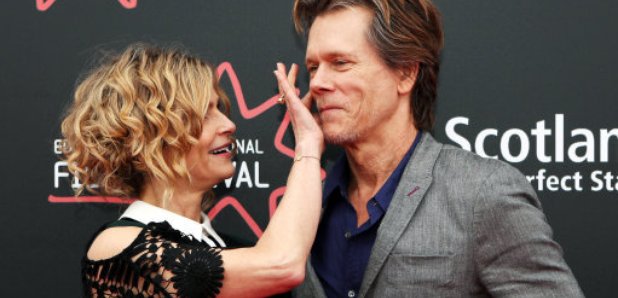 Actor Kevin Bacon said he feels "awesome'' to be in Scotland for the world premiere of his latest film.
The Footloose star was in the capital on Thursday for the launch of Story Of A Girl, directed by his wife Kyra Sedgwick, at the Edinburgh International Film Festival (EIFF).
It comes as the oldest event of its kind marks its 70th anniversary.
Bacon said: "It's great, this is the joy to be man, I love it.
"It's my first time here so I'm thrilled.''
Sedgwick added: "It's beautiful here, I love it.
"It's absolutely stunning and I feel honoured and excited to be at the oldest film festival in the world.''
The movie is about a teen struggling to deal with the fallout of a sex tape gone viral.
Ryann Shane stars as Deanna Lambert who was filmed having fumbling sex as a 13-year-old, by her brother's best friend Tommy.
Three years later, she finds summer work at a local restaurant run by a genial boss (Bacon), only to find Tommy also works there.
The stars were at the red carpet event at Cineworld in Fountainbridge before travelling to the Dominion Cinema in Morningside for the first showing.
Sedgwick said: "It's an important story about social media, it's a story about female sexuality.
"It's very much a father-daughter story and how they split and how they get back together and learn to love each other.
"Father-daughter stories are poignant and important and we don't have enough art about them.''
Bacon added: "It's a good movie because it's not preachy, there's no one thing it's trying to say about that or morality.''
The EIFF kicked off on Wednesday evening with the UK premiere of God's Own Country at the opening night gala.
Actors Richard E Grant, Ewen Bremner, Toby Jones and Sheila Hancock could also be helping the EIFF mark its milestone by appearing in the Scottish capital.
Edinburgh is marking its 70th year as a festival city in 2017 with the city's International Festival and Festival Fringe also due to celebrate later in the year seven decades since they were formed in 1947.