Record-breaking Festival figures
26 August 2019, 18:29 | Updated: 26 August 2019, 18:31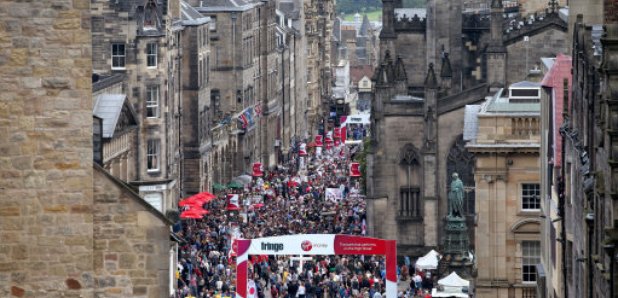 Edinburgh Festival Fringe broke audience records, it has been revealed at the close of the city's 2019 festivals.
This year's Fringe and the Edinburgh International Festival attracted a combined audience of more than 670,000 people.
As the festivals drew to a close on Monday, figures showed more people flocked to the Fringe than ever before, with 250,000 attendees
confirmed and three million tickets issued for Fringe shows.
More than half (56%) of those visiting the Fringe were from Scotland and a record number of Edinburgh residents attended, with 856,541
tickets issued to city audience members.
The city played host to more than 3,800 Fringe shows since the festivals began on August 2.
Shona McCarthy, Edinburgh Festival Fringe Society chief executive, said: "The Fringe is the perfect combination of local and global - a
magnificent medieval city and its residents welcoming performing artists from all over the world.
"At a time of political division and uncertainty around the world, the role of the Fringe as a platform for radical conversations to happen -
from the future of our environment to gender politics, racism and disability - has never been more important.
"We are delighted to welcome audiences from Edinburgh, Scotland, the rest of the UK and across the world to this year's Fringe, alongside
1,661 producers, programmers and bookers who will help ensure the work presented at this year's festival is seen by audiences in venues
and festivals both here in the UK and internationally."
Meanwhile, the Edinburgh International Festival welcomed 420,000 attendees for its 73rd year, up 1% on 2018.
The International Festival provided a platform for 2,800 artists from 41 countries as well as 800 artists from Scotland, and put on 155
events with 293 performances.
Edinburgh International Festival director Fergus Linehan said: "We are delighted with a very successful festival. We broke new ground in
collaboration and inclusiveness, which is particularly important in the current political backdrop.
"We participated in co-productions with companies from China, the UK and the US as well as working with all five of our national companies.
"We were particularly proud to present work by our European colleagues and worked with the governments of Germany, Italy, the
Netherlands, France, Austria, Switzerland, Belgium and Ireland to name but a few."
He added: "This year we maintained the festival at its ideal size, we also deepened our impact within the city of Edinburgh through our
outreach initiatives and by providing high-quality performances in venues stretching right from Leith to Gorgie."
Next year's Edinburgh International Festival and Festival Fringe will take place between August 7-31.