Record 156000 Higher Passes In Scotland
4 August 2015, 05:00 | Updated: 30 March 2016, 13:50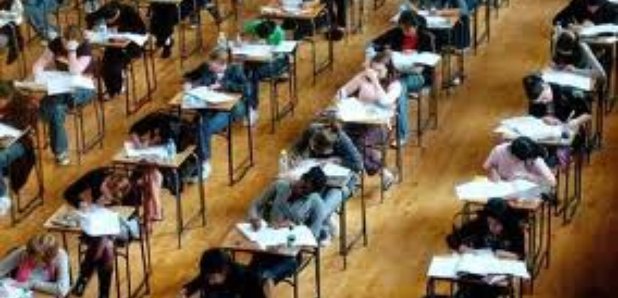 School pupils have been awarded a record number of Highers after sitting the new qualification for the first time this year.
Almost 143,000 students are receiving their exam results today after sitting the new Highers for the first year and National 4 and 5 qualifications for the second year.
The new qualifications were brought in as part of the Curriculum for Excellence reforms.
Pupils were also able to sit exams in existing Access, Intermediates and Highers which were "dual-run'' for 2015 alongside the new qualifications.
Figures from the Scottish Qualifications Authority show that there were a record 156,000 Higher passes this year, up 5.5% on 2014.
A total of 107,295 pupils sat the new Highers, with a pass rate of 79.2%.
A further 92,555 pupils sat the existing Highers, recording a pass rate of 76.7%, slightly down on the 2014 pass rate of 77.1%.
Higher English passes were up 17.7% to 27,902 and Higher modern languages passes increased by 15.2% to 7,419.
The pass rate for the new Maths Higher was 70.8%, similar to that of previous years.
Some pupils had complained about the level of difficulty of the exam, with the SQA stating that its marking process would take this into account.
The pass rate for the National 4 was 93.3%, with 114,173 passes, while pupils achieved 229,870 passes at National 5 level, resulting in a success rate of 79.8%.
Advanced Higher passes have increased by 4% to a record level of 18,899, with pass rate of 80.9%.
Education Secretary Angela Constance said: "This is another strong performance by Scotland's young people.
"They have worked hard and I congratulate each and every one of them, as well as the families and carers and teachers and lecturers who have provided support.
"Scotland has seen record numbers of Higher and Advanced Higher passes. Students are performing particularly well in English and in modern languages.
"Despite concerns about the new Higher Maths exam, it's clear that the system worked, that candidates have been treated fairly and that standards have been maintained.
"The checks and balances in place ensure that students who would have gained a particular grade in a qualification in any previous year will still have done so at the same grade this year.''
She added: "This year we have already seen a record percentage of school leavers in employment, education or training.
"Today's figures show that qualifications recognising life and work skills - such as Awards, National Certificates and National Progression Awards - are up a massive 22.8%.
``This is very encouraging as we support schools to do more to prepare our young people for the world of work.
"We now have a curriculum and assessment system designed to get the very best out of students and give them every possible chance of entering employment, training or further education.''
Scottish Labour education spokesman Iain Gray said: "It is encouraging to see record numbers of exams passed and congratulations are due to all those young people whose hard work has paid off.
"We should also acknowledge that teachers have delivered under significant workload pressure and an exam system in flux.
"The concerns of teachers still need to be be addressed by SNP ministers, and they must do that soon.
"There are some worries here, though, with pass rates at many levels falling slightly after a drop in Higher pass rates last year.
"The gap in attainment between the old and new Highers will raise questions too.
"Analysis of the detail of the exam results will take time, and worries about the narrowing of the curriculum remain."
Scottish Conservative young people spokeswoman Liz Smith said: "While it is important to congratulate all those pupils and teachers who have worked so hard to obtain their results, the Scottish Government must not lose sight of the fact that there is still a significant attainment gap between pupils from poorer and wealthier backgrounds.
"This remains the biggest challenge in Scottish education so when the public sees pass rates increasing year on year it does not tell the real story.
"Indeed, the Scottish Government has made great play in recent months about exam marking becoming ever more rigorous, yet, in English, at a time when there are concerns about literacy skills amongst school leavers, we learn that the English Higher pass rate has increased hugely."