Queensferry Crossing Will Not Open To Traffic Until Summer
29 March 2017, 15:07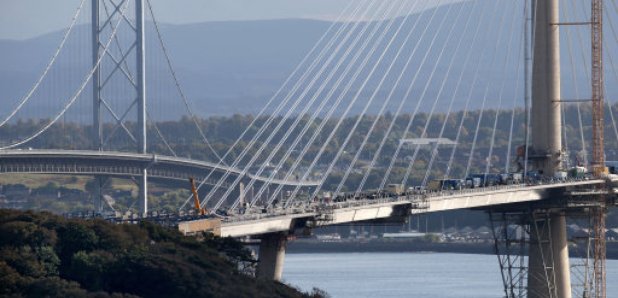 The new Queensferry Crossing will not open until between mid-July and the end of August.
The latest delay has been caused by poor weather conditions, Scottish Economy Secretary Keith Brown said.

The £1.35 billion bridge across the Forth was due to open last December, but adverse weather had already delayed the completion date to the end of May.

Mr Brown told Holyrood's Rural Economy and Connectivity Committee that contractors are ''now advising that the opening to traffic date is more likely to be between mid-July and the end of August''.

He added: ''To put that into context, that's around a four to 10-week delay on a six-year construction programme.

''The precise opening date will depend on the amount of weather downtime which occurs in the coming weeks, with the latest date being based on weather similar to that which we have seen in February and March if that continues to occur.

''It is very important to stress that the costs associated with the over-run will be fully covered by the contractor and so will not result in any increase to the overall project cost to the taxpayer which stands at £1.35 billion as before.

''The potential over-run on the contractual completion date of between four and 10 weeks is a huge disappointment to me and everybody involved with the project, but it should be kept in perspective in terms of infrastructure projects of this scale and complexity.''

Mr Brown said there are now 1,500 people working on the bridge, with operations continuing around the clock.

Workers are being kept on standby to ensure no weather window is missed, he told MSPs.

Pressed on the new completion date, Mr Brown stressed ''weather is the master and that remains the case''.

There is a ''very high degree of certainty'' over the revised time frame for the opening ''but it is not absolutely certain'', he said.

Committee members were also told that although the winter had not been severe, wind speeds were a key issue.

Remaining activities are vulnerable to weather conditions, for example tower cranes can only be removed in wind speeds of less than 25mph and work on cable stays is also sensitive to wind.

David Climie, project director at Transport Scotland, said: ''We have to plan the works very, very carefully, they are being planned literally on a day-to-day basis, and we have to rely on the weather forecasting information that we get in order to plan the works properly.

''It's not that you would characterise it as it has been an awful winter, or that the weather has been particularly severe, it's the fact that we've had steady winds throughout a long period of time which has not created the weather windows we have needed.''

Mr Brown is expected to return to the committee at the end of May to provide a further progress report.