Queensferry Crossing Closes To Traffic Ahead Of Weekend Walks
1 September 2017, 10:48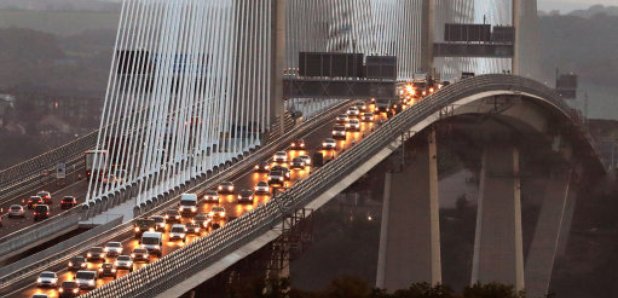 The £1.35 billion Queensferry Crossing has closed to traffic as it prepares for up to 50,000 people walking over it at the weekend.
Tens of thousands will cross the Forth between Edinburgh and Fife on Saturday and Sunday before the landmark bridge is officially opened by the Queen, along with the Duke of Edinburgh, on Monday.

The crossing will remain closed to traffic until Thursday, with vehicles re-directed back to the Forth Road Bridge during this time.

Up to 50,000 people, who won tickets for the weekend walk, will make the crossing between 9am and 5pm on both days.

The chance to walk the bridge has been described as a "lifetime opportunity" as it has no pedestrian walkway.

Local schools and community groups will be allowed to walk over the structure on Tuesday before it closes to pedestrians.

The crossing will re-open to traffic early on September 7 with a 40mph speed limit, which will be later raised to 70mph when it joins the M90 motorway.

Stein Connelly of Traffic Scotland said: "With the events to celebrate the opening of the bridge we are expecting an increase in the volume of traffic around the area in the next few days.

"All changes are clearly signed and road users are being directed to the Forth Road Bridge.

"These are once in a lifetime events and we really appreciate people's patience when they are taking place.

"We would urge everyone to carefully consider their travel plans. If they are not attending the events we would appreciate them avoiding the area where possible as delays are expected.

"They should leave extra time for any journey and they should check all of the available sources of information for the latest travel times before they leave for their destination."