Puppy Pippa Has 'Pawsitive' Impact on Sturgeon's Fear
21 December 2016, 13:47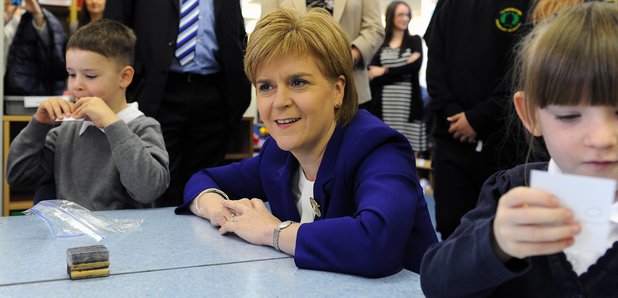 Nicola Sturgeon said opening a refurbished animal rescue centre in Glasgow has helped conquer her fear of dogs.
The First Minister officially opened the £6 million extension of the Scottish SPCA's Animal Rescue and Re-homing Centre in Cardonald, which was formerly known as Glasgow Dog and Cat Home.
Following her visit, she tweeted: "Lovely to open @ScottishSPCA new centre this morning. Thanks to them for amazing work they do (and for helping me conquer my fear of dogs!).''
She also posted a picture of herself holding a springer spaniel puppy, saying: "And here's the proof that - thanks to @ScottishSPCA - I overcame my fear of dogs this morning. This is Pippa, a very cute springer spaniel.''
The 108-year-old centre now boasts a state-of-the-art veterinary clinic which will allow abused, abandoned and neglected animals to receive routine and life-saving procedures and operations on site. The expansion has also seen kennel spaces increase from 99 to 150.
The project was part-funded by a legacy from the late comedian Rikki Fulton and his wife Kate - who were animal lovers and supporters of the charity.
Ms Sturgeon said: "The Scottish SPCA has a long and proud history of protecting and promoting the welfare of animals, and today I saw how much care and dedication goes into making animals feel settled while they await their new family.
"The work that the staff do here to care for animals and promote animal welfare is admirable, and the Government is committed to helping with this by strengthening legislation in this area.
"This new rehoming and veterinary centre will ensure that the animals that come into their care continue to be well looked-after and comfortable until they find their 'forever home'.
``The message I've heard from the Scottish SPCA here today is really clear - it's just not right to gift an animal for Christmas.''
Mike Flynn, chief superintendent at the Scottish SPCA, added: "Almost everyone in Glasgow knows the Dog and Cat Home. Over the years our centre has helped tens of thousands of animals find new and loving homes.
"Thanks to the refurbishment we are now able to rescue and save the lives of more animals than ever before. That's what we're here for and why we need continuous public support.
"As an animal charity, we don't receive any Government or Lottery funding, which is why every pound raised and donated is so important.''