Police to look again at plans for League Cup semi-finals
2 October 2018, 16:23 | Updated: 2 October 2018, 16:25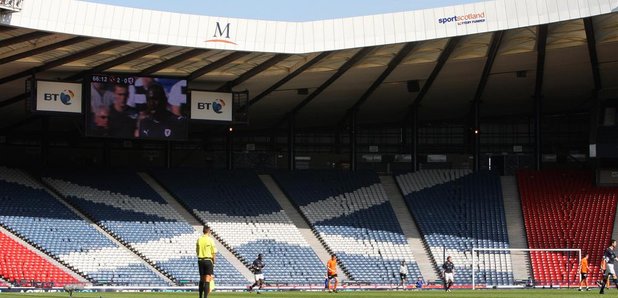 Police Scotland have urged football authorities to look again at plans to hold both Scottish League Cup semi-finals at Hampden on the same day.
The Scottish Professional Football League (SPFL) announced last week that Rangers would face Aberdeen at noon on Sunday October 28 and Celtic will play Hearts at 7.45pm in the Betfred Cup semi-finals.
The proposal is the SPFL's solution to a problem caused by both Glasgow clubs' involvement in the Europa League on the Thursday night, which effectively ruled out the normal practice of spreading the games out over the weekend.
The SPFL stated that it was "contractually obliged to bring both semi-finals to Hampden".
The plan was criticised by Hearts, Aberdeen, politicians and ScotRail who said there had been a lack of consultation over the transport implications.
Police Scotland Assistant Chief Constable Bernard Higgins said it would be "sensible" to look again at issues raised.
He said: "We're aware of issues and concerns that have been raised over the last few days about the date and venue of the League Cup semi-finals.
"As a responsible organisation and taking into account these public concerns, I think it sensible to discuss the issues raised with the SPFL and other stakeholders and I have asked the SPFL to look again at the transport plan so we can make a full public safety assessment."
Scotland's Sport Minister Joe Fitzpatrick said a review of the plans would be welcomed.
Speaking at Holyrood, he said: "While the scheduling of matches is a matter for the football authorities, we recognise there is anger, particularly among supporters who are travelling from Aberdeen and Edinburgh.
"The Scottish Government, Transport Scotland and ScotRail were not consulted ahead of the SPFL announcement."