Police Stop People In Milngavie After Fire Murder
8 January 2017, 09:16 | Updated: 8 January 2017, 09:21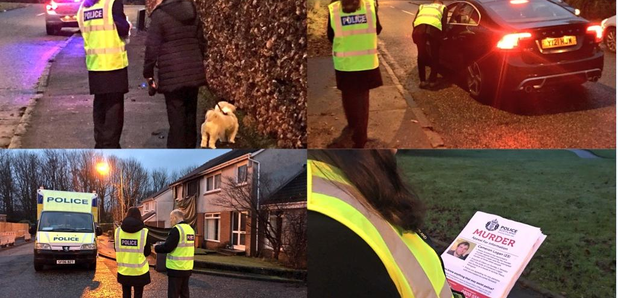 Police investigating the Milngavie fire murder have been back at the scene, exactly one week on.
Officers have been stopping joggers, motorists and walkers around Achray Place and Craigton Road this morning, as they try to find vital witnesses.
23 year old Cameron Logan was killed and his girlfriend is seriously ill in hospital.
Cameron's parents escaped the blaze on New Year's Day, and the family's dog died.
Police have issued various witness appeals and said a number of people have come forward with information, including individuals who believe they may be the dog walkers sought in earlier appeals.
But officers said they still want to speak to anyone else who may have information.
In particular, they are seeking a man in Army combat clothing reported to have been walking on the West Highland Way on the morning of the fire.
It is believed he routinely walks from Maryhill to the West Highland Way at Craigton Road, often passing through the Milngavie area, and officers believe he may have information which could help the ongoing probe.
Police, who were called to the fire at 7.25am on January 1, are treating the case as one of murder and attempted murder.
The fire also resulted in Mr Logan's parents being treated for smoke inhalation and caused the death of the family dog.
Detectives say the fire had been set deliberately, resulting in the death of psychology student Mr Logan.
Since then, officers have also been carrying out door-to-door inquires, checking CCTV footage and interviewing people from the party the couple attended.
Officers were seen searching woodland and waterways near the semi-detached property on Friday.
Detective Chief Inspector Paul Livingstone, of the Major Investigation Teams at Govan, thanked those who have already come forward with information.
He said: "We continue to seek information on the dark-coloured car that reportedly had its engine running at the lay-by on Craigton Road and we would continue to ask anyone with information to come forward.''
Mr Livingstone said police are doing all they can to trace those responsible for the "despicable'' crime.