Police speak to victim of Milngavie fire
12 January 2017, 13:17 | Updated: 12 January 2017, 13:19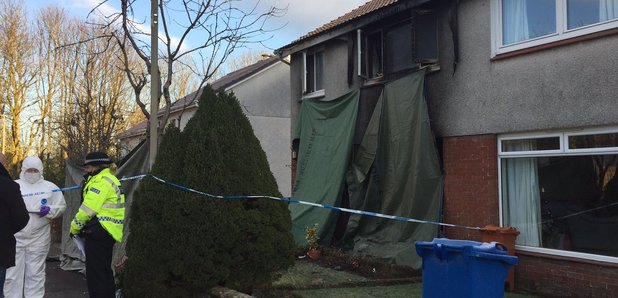 The victim of a deliberate house fire which claimed the life of her boyfriend has spoken to detectives from her hospital bed.
Rebecca Williams, 24, whose partner Cameron Logan, 23, was killed in the tragedy at his family home in Milngavie, is said to be in a stable condition following the blaze in the early hours of New Year's Day.
Ms Williams, known as Bex, was well enough to speak to detectives investigating the case.
A spokeswoman for Police Scotland said: "I can confirm we have spoken to her in hospital and she's in a stable condition."
Mr Logan's body has yet to be released by investigators and there are no details of when his funeral will be held.
The East Dunbartonshire fire happened after the couple returned from a Hogmanay party in the early hours of New Year's Day.
It also resulted in psychology student Mr Logan's parents being treated for smoke inhalation and caused the death of the family dog.
Police were called to the fire in Achray Place at 7.25am on January 1 and have confirmed it was deliberate act which is being treated as murder and attempted murder.
Officers involved in the inquiry have stopped motorists and walkers to determine if they were in the area at the time of the incident.
Officers have also carried out door-to-door inquiries, checked CCTV footage in the area and interviewed people from the party the couple attended.
Detectives are still trying to trace a man seen walking a pitbull in the woods behind the house. They also need to speak to a man who was walking two springer spaniel.
Officers have yet to trace a dark-coloured car seen in a layby on Craigton Road with its engine running and passenger door open.