Police Confirm Bodies On Ben Nevis Are Couple
24 March 2016, 18:39 | Updated: 30 March 2016, 13:50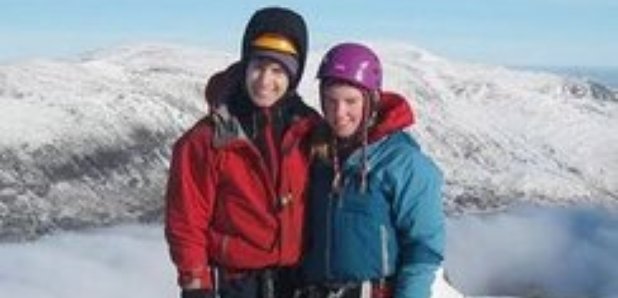 The bodies of a man and woman found on Ben Nevis are that of a couple missing since February, police have said.
Experienced climbers Rachel Slater, 24 and Tim Newton, 27, were reported missing on February 15 after failing to return from a climb on Britain's highest mountain.
Multiple searches by rescue teams had been carried out for the couple, from Bradford, West Yorkshire, with efforts hampered by hazardous weather and avalanche risks.
The alarm was raised for the pair on Monday February 15 when they were reported overdue in returning from an expedition.
Police Scotland said on Wednesday night two bodies had been found and confirmed on Thursday they are those of the missing climbers.
The search saw walkers in the area called on to share information to help with the hunt and they readily exchanged information on climbing forums and social media sites.
Severe weather - including sub-zero temperatures, high winds, falling snow and an avalanche risk - hampered efforts in the early stages and after days, and then weeks, no trace of the couple was found.
Seasoned climber Ms Slater was a graduate of Manchester University and employed as an environmental consultant near Bradford.
She spent some time living and climbing in Canada, where her parents are still based.
Mr Newton, originally from Leicester, studied physics at Manchester and Leeds universities.
He joined Hinckley Mountaineering Club in Leicestershire in 2010 before he moved away to university, with fellow climbers there calling him a natural.
Their families have previously praised the overwhelming response from members of the public and the climbing community in helping to search for the two.
Lochaber Mountain Rescue Team, who recovered the bodies, posted a tribute online.
They said: "I am sure that everyone will join us in offering our thoughts and sincere condolences to the families and friends of Rachel and Tim.
"They were well-known, experienced and respected climbers, and their plight has touched so many people over the last few weeks.
"We have been overwhelmed by the help and support we have received over the last few weeks as we tried to get some clues to where Rachel and Tim may have been going on the day they went missing.
"We would like to thank the whole climbing community for engaging and assisting, even when it was only to eliminate some of the small clues we thought we had obtained.''
The team also thanked Police Scotland and other mountain rescue and search teams involved in the search.
The families of Rachel and Tim said they could now move forward with their lives, taking comfort from the fact they died doing what they loved.
They said in a statement issued through police: "We would like to thank the mountain rescue teams, climbing community, police in Fort William and all concerned for finding Rachel and Tim, bringing the news we have been waiting for and for their sustained efforts over the last six weeks.
"These brave and generous men and women have worked incredibly hard to find Rachel and Tim in difficult and dangerous conditions.
"The Lochaber mountain rescue team, police, climbers, friends, family and wider community near and far have been overwhelmingly supportive, generous and kind throughout this difficult time. We have received thoughts, prayers and messages of kindness from all over the world.
"Although much anticipated, it still comes as a shock but we are thankful that we can now move forward with our lives in the knowledge that Rachel and Tim were doing what they loved to do.
"Climbing was their passion, they loved the mountains, wilderness and outdoor spaces.''
Inspector Donald Campbell, of Police Scotland's Highlands and Islands division, said: "We hope that this identification provides some form of closure for the families of Rachel and Tim, who have bravely endured the agony of not knowing.
"They have our deepest sympathies at this very difficult time, this of course extends to local communities in Bradford, Leicester and Canada, who will feel the loss of two inspiring young people.''
Mr Campbell thanked everyone who assisted in the search and said the determination and expertise displayed by Lochaber mountain rescue team in had been ``outstanding''.