PM At Tory Conference In Edinburgh
4 March 2016, 06:00 | Updated: 30 March 2016, 13:50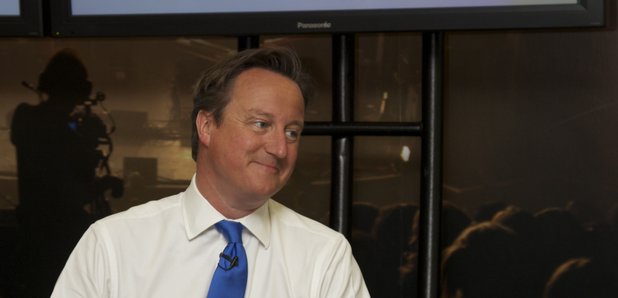 Scotland is at risk of becoming a "one-party state'' with only the Tories capable of challenging Nicola Sturgeon's SNP, the Prime Minister will say.
David Cameron will argue the "collapse'' of Labour means the Conservatives are the "only party fit to expose these spendthrift, out-of-touch, dogmatic, inept nationalists''.
The SNP enjoyed an historic landslide victory in last May's Westminster election, winning in all but three of the 59 Scottish constituencies.
The party continues to dominate the opinion polls in Scotland, with results suggesting it is on track for another majority at Holyrood this May.
Scottish Conservative leader Ruth Davidson has set the goal of the Tories overtaking Labour to become the official opposition in the Scottish Parliament, saying she is "ready to serve''.
With the Holyrood election taking place in just two months' time, Mr Cameron will tell activists at the Scottish Conservative conference in Edinburgh: "We're the party that can challenge the SNP - now the only party that can challenge the SNP.''
The SNP has been in government in Edinburgh since 2007, with Mr Cameron describing the nationalists s "the establishment''.
He will warn: "With Labour's collapse, Scotland is in danger of becoming a one-party state.
"Look at their litany of failure. Children's school attainment - stagnating. The number of college students - falling. Help for poorer students at university - cut. Increasing health spending like England - unfulfilled.''
He will hit out at SNP leader Ms Sturgeon over the abolition of the right-to-buy policy in Scotland, and will say: "Even though Nicola Sturgeon's family benefited from it, she's saying that you can't.''
Mr Cameron will go on to brand controversial laws aimed at curbing sectarian behaviour at football matches a "mess'', condemn the "lost accountability'' of merging eight regional police forces into the national body Police Scotland, and describe as "absurd'' plans to appoint state guardians for all children under the named person policy.
He will say: "I'll tell you who needs a guardian - someone to keep them in check - it's the SNP.
"And it falls to us, the Conservatives, the only party fit to expose these spendthrift, out-of-touch, dogmatic, inept nationalists for what they really are.''
But SNP MSP Linda Fabiani said: "With only two months to go until the Scottish Parliament elections, there is absolutely no sign of the much trumpeted Tory 'revival' - with Ruth Davidson's average approval rating remaining resolutely negative, while the party's grandest hope is to challenge a shambolic Labour Party for second place.
"With their appalling track record on the economy, social security, the constitution and so many other issues, the Tories are completely out of step with opinion in Scotland.
"And rather than helping matters, David Cameron's day-trip north is sure to be filled with the same right-wing rhetoric and devotion to austerity that pushed Tory support to its lowest point in Scotland since 1865.''
She added: "The Scottish Tories under Ruth Davidson and David Cameron are already at their lowest ebb in 150 years - and unless they quickly buck up their ideas and commit to reversing their regressive policies, things are only going to get worse for the quickly diminishing band of Tories in Scotland.''