Pitch Invasions Could Be Criminal After Cup Final
6 August 2016, 07:28 | Updated: 6 August 2016, 07:31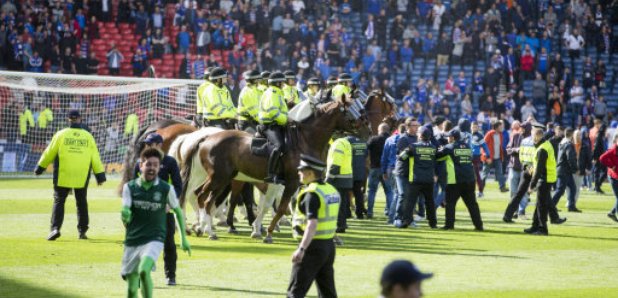 Politicians should consider making pitch invasions a criminal offence in Scotland following the chaos that followed this year's Scottish Cup final, a sheriff has recommended.
Referees should also strictly enforce restrictions on players rushing to the stands in celebration after Hibs players gave the impression that fan interaction was "appropriate'', Sheriff Principal Edward Bowen said.
Mr Bowen has also recommended a raft of security upgrades at Scotland's national stadium, after his inquiry into the the chaos at the Hibs v Rangers match on May 21 found pitch invasions at Hampden Park may be "easier than it would be at other football grounds''.
Mr Bowen said Rangers "merited greater Police attention'' than Hibs fans during the match itself, due to "the discharge of pyrotechnics and the singing of sectarian songs''.
However, chaos unfolded at the Hibs end after captain David Gray's injury time goal put the Edinburgh club 3-2 ahead to win the match.
Gray and three other Hibs players rushed towards that stand and interacted with fans.
Mr Bowen said: "It would be unfair to suggest that this action caused or led to the pitch invasion, but it may have contributed to the impression that direct physical interaction between players and supporters was an appropriate component in the celebrations.''
Two Hibs fan vaulted the wall and were detained by police, but within 10 seconds of the final whistle hoards of Hibs fans invaded the pitch.
Some Hibs fans "accosted and abused a number of Rangers players and team officials'', while others hurled ``obscene language and sectarian abuse'' at Rangers fans and officials.
Some Rangers fans subsequently ran on to the pitch and "a series of scuffles took place''.
Mr Bowen said he is satisfied both clubs and the Scottish Football Association (SFA) took reasonable precautions to minimise the possibility of a pitch invasion.
He also heard no suggestion that communication between security personnel was inadequate, and found no issues with the arrangements for seat sale, seating and segregation.
However, he found the configuration of Hampden "may have contributed to making the invasion easier than it would be at other football grounds''.
He has recommended security wires around the pitch be replaced with products which are harder to stand on, and centrally operated electronic gates to allow fans intent on entering the pitch to do so safely without creating a pile up.
He has also recommend the installation of a retractable tunnel to make the entry and exit of players and officials onto the field of play more secure, and a more clearly delineated wheelchair walkway after disabled fans reported feeling threatened by police horses.
Mr Bowen concluded: "More specific warnings should be given to football supporters to the effect that it is unacceptable to encroach onto the pitch.
"Such an action should be specifically described as ''unacceptable conduct`` in the SFA unacceptable conduct policy.
"It should be made clear that mass incursions onto the pitch, however innocently intentioned, serve as an impetus for disorderly behaviour and a screen for violence by a minority.
"Discussions should take place with The Scottish Government as to whether it should be made a specific statutory offence to go onto the pitch without lawful authority at a designated football stadium.
"I acknowledge that this is a matter which requires full debate.''
He added: "Football officials should continue to take a strict line with players who leave the field of play to engage physically with spectators.
"Players need to be reminded regularly of the dangers of causing crowd 'surges' and the possibility of injuries for which their actions may be responsible, and the need to discourage the notion that physical interaction between players and fans is acceptable.''