Petition over deportation of brothers
29 August 2018, 15:22 | Updated: 29 August 2018, 15:30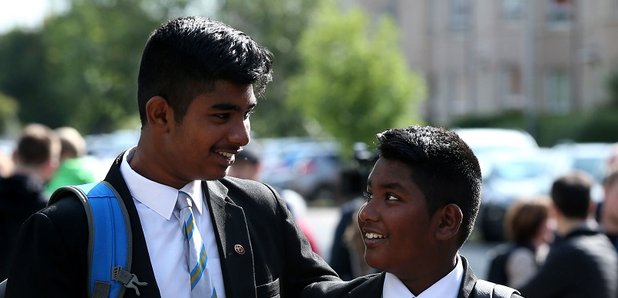 Dozens of school friends joined two teenager brothers to hand in an 85,000-signature petition to the Home Office to prevent their deportation to Pakistan.
Somer Umeed Bakhsh, 15, and his brother Areeb, 13, have lived in Glasgow with their parents Maqsood and Parveen since their family fled Pakistan in 2012 when their father was subjected to death threats due to his Christian faith.
The UK Government has repeatedly rejected the family's plea for asylum, largely because officials do not believe they would be at risk in Pakistan where blasphemy carries the death penalty.
Almost 85,000 people have signed a petition calling on the Home Office not to deport the family, who are being supported by the Church of Scotland.
Somer, who wants to be an astrophysicist, recently got six As and a B in his National 5 exams at Springburn Academy in Glasgow.
Dozens of pupils from the school joined the boys at the Home Office depot in Glasgow on Wednesday to show their support for the petition.
Some carried homemade banners reading "We stand with Somer and Areeb" and "Hear our voices we are future of Scotland".
Somer said: "It's very nice to see so many people actually supporting us and it shows how much they care."
Areeb said: "I think this will change things because you can't ignore 85,000 people.
"All these people are Scottish and they clearly want us to stay here so you can't ignore them."
MP Paul Sweeney and Moderator of the General Assembly of the Church of Scotland Rev Susan Brown handed over the petition with Possilpark Parish Church members also in attendance to show their support to the family.
The boys' father said they would not be safe if forced to return to Pakistan.
Mr Bakhsh, 50, said: "For Christians in my country you face discrimination and uncertainty. We were threatened by different extremist groups and I didn't want my children to stay there where that threat is always hanging above so I applied for asylum.
"We lived in 14 cities in two years before coming here. The Home Office say there are safe places in Pakistan but I have lived it and I know we would not be safe. They are reading about it in books or whatever but I have the primary information and we cannot live there.
"Family and friends have been targeted wherever they have been."
Rev Brown said: "They have had the odds stacked against them for more than six years but despite all that they have played a full part in the life of the local church and community.
"People are here because they are such a lovely family and despite not having very much at all because they are in the asylum process, they have given so much to their community and that's reflected in the number of folks who have turned up today."
Mr Sweeney called on the Home Office to review the asylum process.
"It would seem really cruel to dispatch them to a country where not only would they face persecution for their religious beliefs but it's also an entirely foreign country to them now, the boys have been here for their formative years," the Labour MP said.
"Fundamentally there needs to be an element of compassion put back into the Home Office processes.
"The asylum process is taking way too long and it's also putting the onus on individuals to prove that they have been persecuted when often the capacity to provide evidence is very difficult because they have just fled the country with the clothes of their back.
"I think the Home Office needs to take a more cooperative and compassionate view of the circumstances that people have fled to this country in and give people better support to make their cases."
Bob Doris, MSP for Maryhill and Springburn, who has also taken up the family's case with the Home Office, said: "The backing given to Somer, Areeb and their parents has been both emphatic and heart-warming.
"The family would face both great distress and be in danger if returned to Pakistan and it would also be a loss to Scotland.
"With this petition in defence of Somer and Areeb the UK has the opportunity to do the right thing and start to gain some credibility on asylum policy."