Paige Doherty: Deli Owner Admits Murder
5 September 2016, 12:09 | Updated: 5 September 2016, 15:14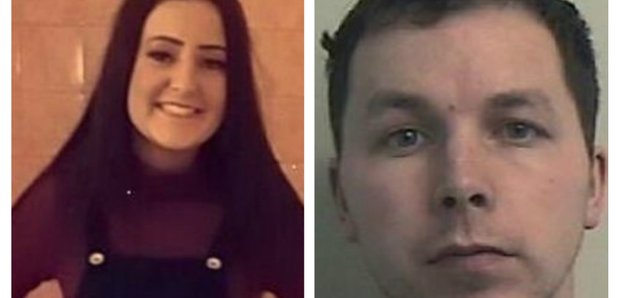 A shop owner murdered a teenager in a ``frenzied'' knife attack after she went to buy a breakfast roll on her way to her hairdressing job.
John Leathem inflicted more than 140 stab wounds and cuts on 15-year-old Paige Doherty in Clydebank, West Dunbartonshire, on March 19.
At the High Court in Glasgow, Leathem, 32, admitted murdering Paige in the back office at Delicious Deli in the town's Fleming Avenue before dumping her body in nearby woodland.
He grabbed a knife and stabbed the teenager during a brief discussion about a job at the shop, when he claims Paige told him ''I'll just say you touched me'' if she was not offered the role, according to his defence counsel.
Family and friends of the schoolgirl gasped and stifled cries as CCTV footage was shown to the court of Leathem carrying her body in a bin liner to the boot of his car after murdering her within 10 minutes of her entering the shop that Saturday morning.
Judge Lady Rae told the married father of two, a first offender: ''This was a savage, frenzied attack on a child.''
The alarm was raised when Paige failed to turn up for her part-time hairdressing job in Kirkintilloch, East Dunbartonshire.
Her worried mother, Pamela Munro, reported her missing after checking with friends, who said they had not heard from her either.
A friend she stayed with the night before said Paige had left that morning to get a roll and some change before catching the bus to her work.
She was last seen entering Delicious Deli at 8.21am and Leathem is believed to have struck by the time neighbouring shop owners noticed the shutters pulled down at 8.31am.
He was later captured on CCTV leaving the shop to buy anti-bacterial wipes, bin bags and bleach, and collect his car from his nearby home, in a bid to cover up the crime.
Leathem is understood to have stored Paige's body in a shed at his home before driving to a wooded area off Great Western Road and dumping her body before opening for business on the morning of Monday March 21.
At around noon that day a walker spotted what he thought were legs in the undergrowth and raised the alarm.
A post-mortem examination recorded 61 stab wounds, including 43 to the head and neck, and 85 further cuts - many of them described as ''defensive in nature'' - as Paige tried to fight off her attacker.
Lady Rae was told by the prosecution: ''Reviews of CCTV footage led police to believe Paige Doherty had entered the deli but had not walked away.''
Leathem's defence barrister, Ian Duguid QC, said when Paige entered the shop that day she was ''just another customer''.
But the shop owner knew of Paige through her mother, who had told him that her daughter was unhappy with her placement at the hairdresser's.
Mr Duguid said: ''In general conversation the accused mentioned to Paige that he knew she might be unhappy at her work.
''According to him he explained that his business was looking for an assistant to work in the shop.''
Paige is said to have gone with him to the back office where he took some details from her.
Because she was a month shy of her 16th birthday, he said he told her he would have to speak to her mother, and also explained there were other candidates for the job.
Leathem claims Paige responded: ''I thought I was getting a job'' before adding ``I'll just say you touched me'', the court heard.
Mr Duguid, setting out Leathem's version of events, said he stood up suddenly and knocked the chair he was sitting on backwards to the floor.
Paige is said to have stood up suddenly herself and started screaming, and the shop owner responded by grabbing a knife from the top of a nearby cabinet and stabbing her.
He is said to have expressed ''extreme sorrow and remorse'' for his actions.
The killing was described as a ''spontaneous, gross overreaction'' by Mr Duguid, who said there had been some discussion about whether it could be linked to events involving a close relative of Leathem.
The court heard the relation had faced difficulties such as finding a job after being convicted of a sexual offence a number of years ago.
Before Paige's murder, Mr Duguid said Leathem had been ''an ordinary member of the community with no history of offending or violent offending''.
Paige's family said they will never get over what happened to the teenager.
Her grandmother described her as a ''kind and selfless person and all-round good girl'' in a victim impact statement.
Mother Pamela hears her daughter's screams in her nightmares, the court heard, and stepfather Andrew told how they could not get out of their heads ``the terror that she must have experienced''.
Detective Superintendent Duncan Sloan said: ''Paige's whole future lay ahead of her and her life has been brutally cut short by the vicious actions of one man.
''These type of incidents are very rare in Scotland and Paige's untimely death shocked a community to its core, particularly as the man responsible was one of them.
''The support from the local community has been much appreciated and I hope that Paige's family can take some comfort from the result of the court proceedings today.''
Leathem will be sentenced at the High Court in Glasgow on October 12.