One cordon to be lifted, the other remains in place
26 July 2018, 06:21 | Updated: 26 July 2018, 06:29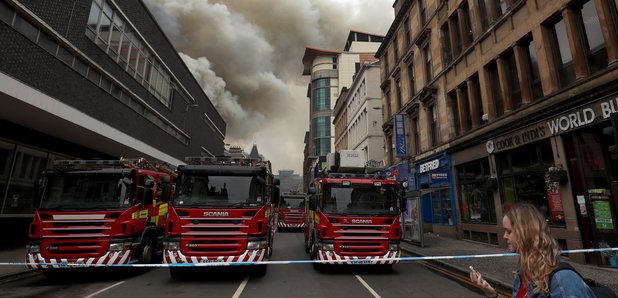 Work to re-open a busy city street which has been partly shut since a fire in March is beginning as demolition work finishes.
A cordon was set up on Renfield Street following the fire at Victoria's Nightclub on Sauchiehall Street, Glasgow, on March 22.
The block housing the club was demolished on safety grounds following the blaze.
Glasgow City Council said that the operation to clear the rubble from the demolition has now concluded and heavy plant machinery has been removed from the site.
Work is beginning on Thursday to move the cordon currently on Renfield Street back to the pedestrian precinct on Sauchiehall Street.
This will allow traffic to move between Renfrew Street and Bath Street once more and pedestrians to use pavements on both sides of Renfield Street.
The pedestrian precinct on Sauchiehall Street will remain closed to the public while utility companies work to reconnect essential services to the affected site via a 40-metre trench dug along the northern side of the street.
Renfrew Lane will also remain closed for the time being and hoardings are being put up. The local authority hopes that all work will be completed by Friday August 3 but it is hoped that the cordon can be moved back further before then.
Three months after the Victoria's fire the other end of Sauchiehall Street was affected by the blaze which tore through Glasgow School of Art on the night of June 15.
Businesses and 33 homes within the cordon zone around the art school remain evacuated.
A £5 million fund has been announced to help businesses affected by the fire that destroyed the Mackintosh Building last month.
Economy Secretary Derek Mackay confirmed the cash amid frustration from business owners and residents shut out of a safety cordon around the site while the building is dismantled.
The Scottish Government said Glasgow City Council would be given the extra funding to distribute to businesses inside the cordon and those in the wider Sauchiehall Street area who could demonstrate hardship as a result of the fires.
Those firms within the Glasgow School of Art and Victoria's cordons will receive £20,000 of direct financial support, with other businesses in the area impacted eligible for £10,000.
The move follows rates relief for affected businesses and grants of £3,000 for affected residents.
Applications for the new fund will open on July 31 with eligibility for businesses outside the cordon still to be set out.