No Signs Glasgow Fruitmarket Blaze Was Started Deliberately, Says Fire Service
27 October 2017, 16:07 | Updated: 27 October 2017, 16:09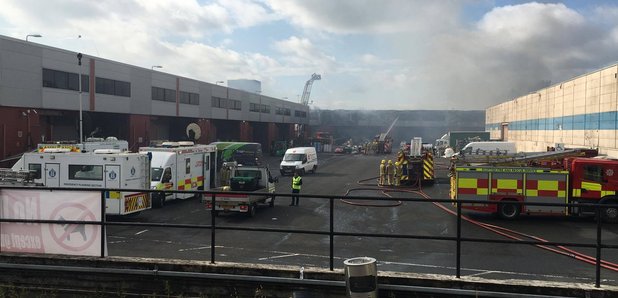 An investigation into a fire which engulfed a warehouse and produce market has found no evidence it was started deliberately.
The blaze at Blochairn Fruitmarket in Glasgow on August 17 does not appear to be the result of wilful fire-raising, the Scottish Fire and Rescue Service said.

More than 70 firefighters tackled the flames at the market in the north east of the city.

Plumes of smoke could be seen across Glasgow and road closures were put in place following the early morning fire.

Employees at the 32-acre site owned by City Property were safely evacuated but sales and deliveries of fruit, vegetables, fish and flowers to businesses across the country were badly impacted.

The company said it is "business as usual" for the 400 workers employed at the market.

The fire service said a full report would be concluded in due course.

A spokesman said: "The Scottish Fire and Rescue Service conducted an investigation into a fire at Blochairn Fruitmarket, Glasgow, on Thursday, August 17 and found no evidence of wilful fire raising."