Nicola Sturgeon searching for young woman to mentor
8 March 2018, 06:33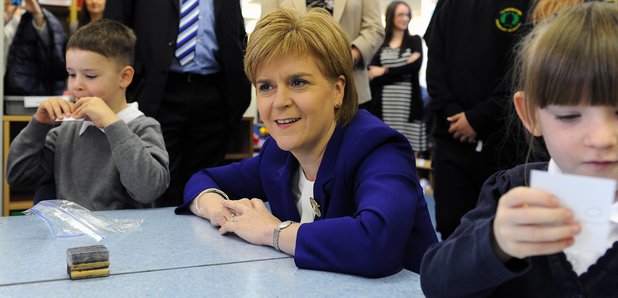 First Minister Nicola Sturgeon has marked International Women's Day by launching a search for a new young woman to mentor.
Ms Sturgeon also urged other leading women to step up and give some time to help others achieve their goals.

Reflecting on a year that has seen the growth of the Me Too and Time's Up movements against sexual harassment and abuse, the SNP leader said there was much progress still to make towards gender equality.

Speaking on a visit to social enterprise Tribe Porty in Portobello, Edinburgh, she said: "On International Women's Day there's an opportunity for all of us as women to recognise how far we've come.

"Earlier this year we celebrated the centenary of the first women achieving the vote, I am the first woman First Minister, we've got a woman Prime Minister whose politics I disagree with, nevertheless that shows what's possible, but it's also an opportunity to recognise how much further we have to go.

"We've been reminded, I think all too strongly in recent times, of some of the challenges and barriers that women still face.

"We've got a gender pay gap, women often still face unacceptable behaviour in workplaces and elsewhere, and we still don't have gender balance on many boards and organisations across the country.

"So, I like to think of International Women's Day as a tale of two halves, we've made a lot of progress but for the sake of the next generation of women we've got to rededicate ourselves to making the progress we still need to make."

Applications are now open for young woman aged between 18-23 to become The First Minister's second mentee.

She said: "Through the First Mentor initiative I have the pleasure of mentoring Charlotte Liddell, a young mum of two from Fife.

"Seeing her grow in confidence and discover her potential in the past few months has been a truly enriching experience, and she has also taught me a lot by giving me a new perspective on the many issues affecting young people today.

"That is why I have decided to extend the 'First Mentor' initiative and look for a mentee again this year, with the help of Young Scot.

"I am also calling on other women in leadership roles to join me.

"Not just chief executives or chairs of big organisations, but any woman who feels that she has something to offer.

"By giving our time and sharing our experiences, we can support a new generation of women to reach their potential, and learn from them in return."

Ms Liddell said: "Through this mentorship programme, I've been given opportunities that I had only ever dreamt of.

"Too often, young people are told they will never amount to anything - especially young parents.

"This mentorship has inspired me to help other young people to believe in themselves - especially those whose voices are not heard."

Some of those shortlisted for the First Mentor scheme will also be matched with mentors from the Scottish Chambers of Commerce network.