New Anti-Knife Play Touring Scottish Schools Sparking 'Instant Behaviour Change'
11 October 2017, 13:33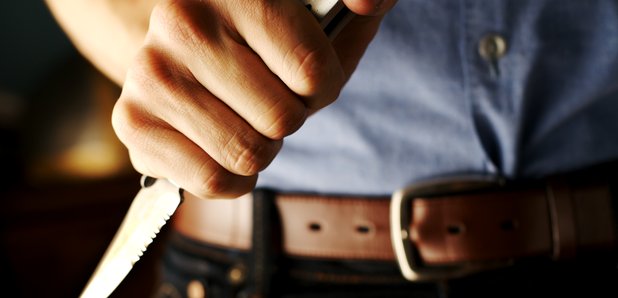 The Justice Secretary has credited a play touring schools across Scotland with producing an "instant behaviour change" in pupils regarding attitudes to knife crime.
Michael Matheson attended a performance of The Balisong play at Ardrossan Academy.

The play, named after the Philippine term for a butterfly knife, focuses on three teenagers discussing the circumstances leading to their friend stabbing someone and whether they could have done more to prevent it.

Written by Jennifer Adam and developed through collaboration with young actors, the play is part of the the Scottish Government funded No Knives Better Lives programme to drive down knife carrying and violence among young people.

It is scheduled to be performed at 64 schools, reaching around 12,000 pupils, in the next few months having started the run at the end of September.

Mr Matheson said: "While I was struck by the effectiveness of drama in conveying this important message, I was equally struck by the conversations that took place among pupils immediately afterwards.

"Some young people previously indicated they would not tell anyone if someone they knew was in possession of a knife.

"What I witnessed, and what I'm told is taking place in other schools, is the instant behaviour change The Balisong delivers."

Figures released last week revealed 254 children under 16 were referred to the children's reporter last year for carrying knives and other weapons.

The issue of knife crime in schools was raised at First Minister's Questions on Thursday when the Scottish Conservative leader Ruth Davidson called for councils to make information on the problem publicly available following the death of Aberdeen pupil Bailey Gwynne two years ago.

Ruth Davidson said there was "no meaningful picture of the extent of the problem in any area" because almost half of local authorities were unable to confirm how many weapons had been taken from pupils in their schools.

Bailey, 16, was stabbed to death by a fellow pupil during a fight at Cults Academy in October 2015.

Aberdeen City and Aberdeenshire are not among the 15 councils areas where the Balisong play is being performed and the government said uptake is a matter for individual councils.

Following Bailey's death the Scottish Government said councils would be required to develop their own policies for dealing with weapons in schools, while new guidance made clear that any incident must be monitored and recorded at a local level.

First Minister Nicola Sturgeon said she expected all local authorities to adhere to the guidance.