Mark Beaumont leads Pedal On Parliament
28 April 2018, 07:16 | Updated: 28 April 2018, 07:19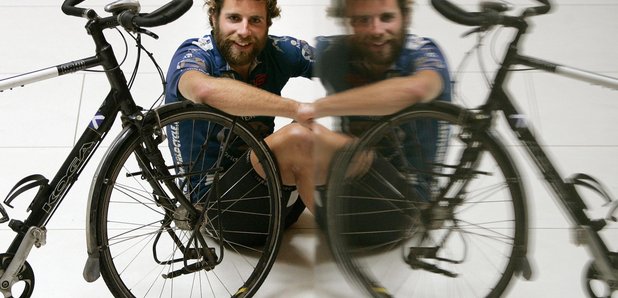 Thousands of cyclists will descend on the Scottish Parliament to call for safer streets and more investment in active travel.
Those attending the seventh annual Pedal on Parliament (PoP) event are demanding safer roads and more cash for cycling and walking routes.
Record-breaking cyclist and adventurer Mark Beaumont will lead the mass ride and march from the Meadows in Edinburgh down the Royal Mile to Holyrood.
He said: "I am looking forward to joining Pedal on Parliament once again, this time with my daughter.
"While I believe progress has been made over the past seven years to make Scotland a safer country to cycle in, it is massively important that our MSPs understand how vital safer roads and better infrastructure are for everyone.
"It's only through a mindset of sharing roads and respect for everyone that we will see more adults and children feeling safe enough to cycle as part of their everyday lives."
Demonstrations will also take place in Inverness on Saturday and Aberdeen on Sunday.
Green MSP Mark Ruskell will cycle 50 miles from his home in Doune to join colleagues Patrick Harvie and Alison Johnstone at the Edinburgh ride, while the party's John Finnie MSP will attend the Inverness event.
Mr Ruskell has put forward proposals for a member's bill to reduce the speed limit in built-up areas from 30 to 20mph.
He said: "Momentum is growing for slower speeds to create safer streets which encourage more walking and cycling.
"The thousands of people from all walks of life expected at today's Pedal on Parliament events can add their voices to the broad public support that already exists for dropping the urban speed limit from 30 to 20mph - it's already one of PoP's eight manifesto asks."
Ms Johnstone added: "Investing in walking and cycling has to be at the core of any preventative health agenda, as we have long known that spending more time being active is key to preventing Type 2 diabetes, for example.
"None of us can be in any doubt about the need to tackle toxic air pollution, and address the devastating health impacts of Scotland's obesity epidemic."
Transport Minister Humza Yousaf has met Mr Ruskell regarding his plans to bring forward a Member's Bill on 20mph speed limits.
He said: "The Scottish Government continues to increase investment in active and sustainable transport. We have invested over £217 million in active travel since the start of the 2011 spending review and, as announced in the Programme for Government, we have doubled the active travel budget from around £40m to £80m a year from 2018-2019.
"We are learning from other European neighbours, such as The Netherlands, how best to build active and healthy communities, where everyone can participate and benefit from.
"Our focus will be on making our towns and cities safer and friendlier with more segregated infrastructure, where appropriate, improvements to the public realm and putting people and place before motorised vehicles."