LISTEN: Scottish Honeymooners Hit Out At Irma Response
7 September 2017, 07:32 | Updated: 7 September 2017, 07:51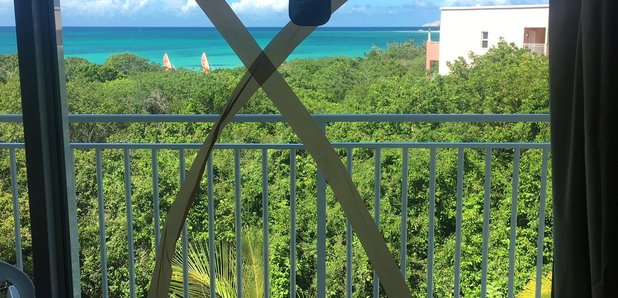 A Scottish woman on honeymoon on an island off Cuba says they've been completely failed by Thomas Cook, as Hurricane Irma approaches.
At least seven people have died and hundreds of homes have been destroyed as the storm hits the Caribbean.

The storm has brought winds of 185 miles an hour to Barbuda, Antigua and St Barts and could hit Cuba and Florida too.

A two-year-old was also killed in Barbuda as a family tried to escape a damaged home during the storm.

The country's Prime Minister, Gaston Browne, said 95% of buildings on Barbuda had been flattened.

Julieann Fernandez from Glasgow is on the island of Cayo Coco in Cuba.

She says other providers are flying people home, but all they've been told is that they'll be taken to the mainland.

She said: "The hotel have told us nothing and Thomas Cook haven't either. The waiters in the hotel were briefed and the waiters had to tell us that we're being evacuated to the mainland tomorrow.

"The hotel shuts at 10am tomorrow and Thomas Cook failed to tell us this. All they have said is that they will provide an update tomorrow as they cannot confirm anything.

"They've also said that the hotels are hurricane rated, but we fail to believe this as the sliding doors do not lock securely. They've come in and they've put brown tape on the windows and that's all that they can do."


The travel operator has posted its latest advice online.

It said: "We're offering free amendments or cancellations for customers traveling to these destinations up to and including Sunday 10 September.

"If you're due to travel during this time please contact us on 01733 224 536 to discuss your travel arrangements.

"We've sent 18 members of our Special Assistance Team to Cuba and the Dominican Republic to give our customers already in resort further assistance and support.

"The safety of our customers is always our first priority. We continue to monitor this powerful storm and its possible impact on Florida.

"Please continue to check this page for further updates as the hurricane moves through the Caribbean."