Liam Fee's Mum Wept After Charged With Murder
11 May 2016, 17:30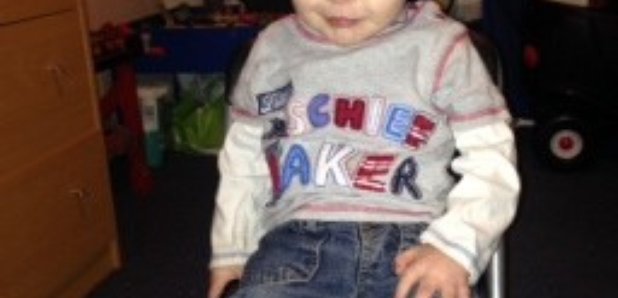 A mother wept as she was charged with murdering her toddler son in a video shown to a court.
Jurors were shown a video recorded at Kirkcaldy police station, Fife, on Wednesday August 20 2014, about five months after the death of two-year-old Liam Fee.
In it, Rachel Trelfa, also known as Fee, wiped her eyes and could be heard sobbing as a police officer formally charged her with murdering the child in March that year.
Trelfa, who was wearing a grey short-sleeved top, made no reply to the allegation, in which she was accused of acting alongside her partner Nyomi Fee.
Trelfa was also charged that evening with wilfully ill-treating and neglecting two other young boys, jurors heard.
The detail emerged during the evidence of Detective Constable Steven McLean, 34, of the major investigation team at Kirkcaldy - the officer who charged Trelfa.
The court was also shown a video, from the same day in August 2014, of the moment police charged Nyomi Fee with murdering Liam and ill-treating the boys.
She appeared tearful in the video and put her hands over part of her face once the charges were read out to her by Detective Constable Lorraine MacPherson.
The court also heard how both women were interviewed separately on April 11 2014 as suspects - a change from their previous status as witnesses.
Both remained largely silent during those interviews, as was their right, the court heard.
Liam was found dead at a house in Fife on March 22 2014.
Rachel Trelfa or Fee, 31, and Nyomi Fee, 28, have been on trial for 21 days at the High Court in Livingston, where they deny murdering the two-year-old and falsely blaming his death on another young boy.
The pair - originally from Ryton, Tyne and Wear - also plead not guilty to a catalogue of allegations of wilfully ill-treating and neglecting two young boys over a period of more than two years.
Earlier, the court heard the young boy blamed by the accused for Liam's death described as an "amazing young man''.
He was said by a witness to be "gentle'' around small children with "absolutely appropriate behaviour'' around them.
The woman, who cannot be identified for legal reasons, said: "He's the most amazing young man. He's kind, he's thoughtful, he's generous, he has an amazing sense of humour.
"He's a normal boy who loves rough and tumble, football, climbing trees ... He's got the most amazing capacity for love and it's been an absolute pleasure to know him.''
The court later heard from social worker Charles Findlay, 59, who said the first contact or knowledge he had of Liam was around 14 months before his death.
He agreed with defence QC Mark Stewart's assertion that there had been "social work involvement at different points after the 15th of January 2013 up to the date of Liam's death.''
"At least from 15th January 2013 through to 22nd March 2014 there is ongoing social work awareness and contact with the family,'' Mr Stewart said.
The witness agreed with the lawyer's claim that "there was no action taken against the parents'' at any stage during that time.
And there were "no findings that there was any assault or abuse'' taking place, Mr Stewart added.
"That's correct, there was no finding,'' Mr Findlay replied.
The accused deny all the charges against them.
The trial, before judge Lord Burns, continues tomorrow.