Laura Muir 'Gutted' On Missing Out On 1500m Bronze
8 August 2017, 07:29 | Updated: 8 August 2017, 07:33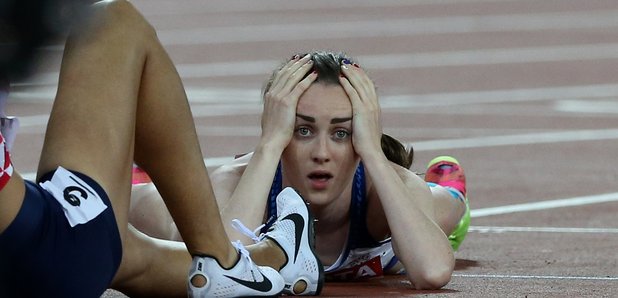 Laura Muir admitted her injury-lay off could have cost her a World Championship medal after she missed out on bronze by seven hundredths of a second in the 1500 metres.
The 24-year-old could not hold on in the final 100m and finished fourth in a thrilling sprint finish at the London Stadium having been overhauled by Caster Semenya on Monday night.

Olympic champion Faith Kipyegon took gold in a time of four minutes 2.59 seconds, with America's Jenny Simpson clinching silver in 4:02.76. Muir came home in 4:02.97.

Muir had recovered from a stress fracture in her foot in June and conceded the time out could have made a difference after finishing behind Semenya.

She said: "When you think about it I was in the pool for two weeks and missed sessions for the best part of three weeks, you wonder would that have made a difference? I'm gutted but also appreciative of the opportunity I was given.

"I ran as hard as I could right to the very line but there was nothing I could have done once they came past me. I gave myself the best chance I could, I just wasn't strong enough.

"I think I covered every move I could have done. The other girls were faster on the day and there was nothing I could do about that.

"I was that tired I wasn't thinking about it but I knew when I crossed the line it had just gone. I could tell Caster was a fraction ahead of me. I ran as fast as I could and fourth was what I got.

"I didn't look up on the screen because, regardless of what I saw, I was going to run as fast as I could."

It compounded Muir's woes after she finished second last at the 2014 Commonwealth Games, following a late collision, and seventh at last year's Olympics - after being in medal contention until the final 200m.

She said: "I've had quite a lot of them (lows) so far. I thought Glasgow at the Commonwealth Games was hard, last year in Rio was hard and now this. I'm a bit up and down but it's hard. I can't say anything more."

Muir now looks to the 5,000m after a sobering day for Great Britain as Sophie Hitchon finished seventh in the hammer although Danny Talbot, Zharnel Hughes and Nethaneel Mitchell-Blake reached the 200m semi-final.