Judges To Consider Bin Lorry Prosecution
11 February 2016, 18:25 | Updated: 30 March 2016, 13:50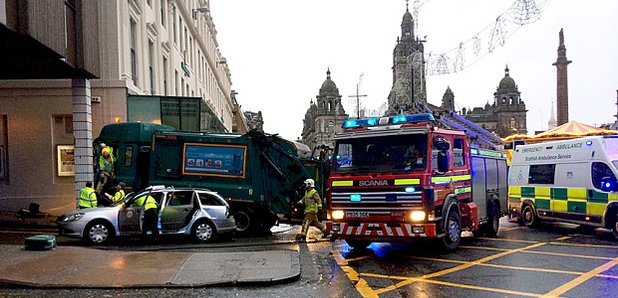 A date has been set for senior judges to examine the bid to bring a private prosecution against Glasgow bin lorry crash driver Harry Clarke.
Three High Court judges will sit "to determine further procedure'' on March 22 in Edinburgh, the Scottish Courts and Tribunals Service (SCTS) said.
The hearing will also consider a similar bid to prosecute William Payne, lodged by the families of students Mhairi Convy and Laura Stewart who were knocked down and killed in Glasgow in 2010.
Lawyers for the family of bin lorry victims Jack and Lorraine Sweeney and their granddaughter, Erin McQuade, last month submitted the Bill for Criminal Letters - required for a rare private prosecution - to the court.
It came after the Crown Office rejected the family bid for a private prosecution.
Lord Advocate Frank Mulholland has consistently said there is insufficient evidence in law to raise criminal proceedings against Mr Clarke.
A fatal accident inquiry (FAI) last year heard he lost consciousness at the wheel and that he had a history of health issues - including a previous blackout in 2010 when at the wheel of a stationary bus - but had not disclosed his medical background to his employers or the DVLA.
Stephenie Tait, Jacqueline Morton and Gillian Ewing also died when the bin lorry driven by Mr Clarke went out of control in Queen Street in December 2014.
The families of Ms Convy and Ms Stewart also saw their bid for a private prosecution rejected by the Crown Office in January.
The women, aged 18 and 20, were walking in North Hanover Street on December 17 2010 when a Range Rover lost control, mounted the kerb and hit them.
A FAI was held in 2014 into the deaths and Sheriff Andrew Normand found five ''reasonable precautions'' could have prevented the accident, which happened after Mr Payne suffered a ''vasovagal episode'' and temporarily lost consciousness, losing control of the vehicle.
An SCTS spokesman said: "SCTS can confirm that, regarding the Bill for Criminal Letters lodged on behalf of Matthew McQuade, Jacqueline McQuade and Yvonne Reilly against Henry Clarke and a Bill for Criminal Letters lodged on behalf of John Stewart, Linda Stewart, Alan Convey and Aileen Convey against William Payne, the Court has assigned a three judge procedural hearing within courtroom 3 of Parliament House, Edinburgh on Tuesday March 22 2016 at 10am.''