Is Kez Heading For The Jungle?
18 November 2017, 07:18 | Updated: 18 November 2017, 10:27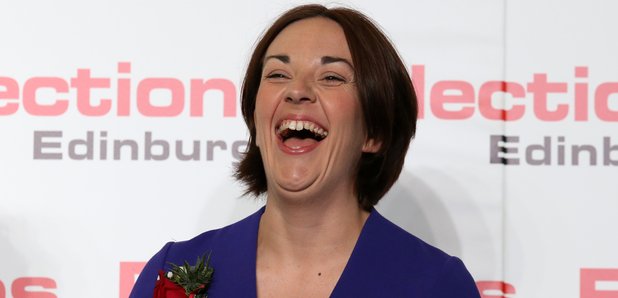 The new leader of Scottish Labour will be announced at an event in Glasgow later - but it could be overshadowed by reports Kezia Dugdale is taking part in I'm A Celebrity, Get Me Out Of Here.
She resigned back in August, but remains as an MSP.
It's claimed the 36-year-old is flying to Australia this weekend to enter the jungle for the reality tv show.
Media reports of her participation in the show have drawn criticism and surprised reactions from other politicians.
Labour MSP Jenny Marra tweeted: "Election to parliament is a privilege to serve and represent people. It's not a shortcut to celebrity."
SNP MSP James Dornan added: "We all accept the new @scottishlabour leader is going to be a disaster but surely this is still a bit extreme Kezia."
Party health spokesman and Glasgow MSP Anas Sarwar has been vying with left-wing Central Scotland MSP Richard Leonard for the top job.
Voting in the leadership contest closed at midday on Friday.
Mr Sarwar has the backing of several of the party's high-profile parliamentarians, including MP Ian Murray and current interim leader Jackie Baillie, while Mr Leonard has the support of the majority of trade unions.
During the contest, Mr Sarwar came under close scrutiny for working practices at his family's firm while supporters of both candidates raised concerns over the sign-up process for those eligible to vote, with accusations of unfair tactics on both sides.
Speaking after the polls closed, Mr Sarwar said that if elected he would "work tirelessly to return us to power so that Scotland has a government that works for the many, not the few".
Mr Leonard said it was "time for the party to come together to take the fight to the SNP and the Tories, for all of those people in all of those communities who need Labour back in power".
The victor takes over the helm at a tumultuous time for the party following the suspension of Alex Rowley as a member of the Scottish Labour Parliamentary group on Wednesday.
Mr Rowley had already stepped down as interim and deputy leader after allegations about his conduct emerged.
Meanwhile, Scottish Conservative leader Ruth Davidson will say the contest has "revealed a party that is divided and bitter" in a speech to her party's autumn convention in Perth.
She is expected to warn that regardless of its captain, Scottish Labour is "holed below the waterline" as it picks its ninth leader since devolution.
Ms Davidson is expected to say: "It doesn't matter who takes over today, Labour is a party marooned on the rocks.
"It means my party must step up to do the job that people in Scotland desperately want to see: holding the SNP to account.
"To oppose the nationalists' obsession with independence - and to set out a mainstream alternative: improving schools, investing in services and supporting business.
"We can appeal to those thousands of Labour voters who are looking for a party to do a job for them."
In response, Ms Baillie said: "No matter how hard Ruth Davidson tries the people of Scotland know she is propping up the most shambolic Tory government in living memory.
"Everything that government does - from the cruelty of the rape clause to the chaos of Brexit - is a result of Ruth Davidson propping up Theresa May.
"In Scotland, the Tories have no answers, just the same tired old dogma, tax cuts for the richest and public service cuts for the rest of us."