Irn Bru Maker AG Barr To Cut 90 Jobs
27 September 2016, 18:20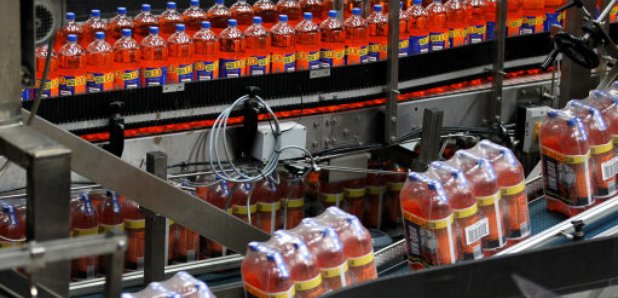 Irn Bru maker AG Barr has announced plans to slash 90 jobs and said it was grappling with a shift in consumer taste towards low-sugar drinks.
The firm said total revenues fell 4% to #125.6 million for the six months ending in July as customers reacted to the "significant weight of negative media coverage'' towards soft drinks with added sugar.
AG Barr, which also owns Rubicon, Strathmore and Funkin, said the Government's sugar tax - set to come into force in April 2018 - was "a punitive and unnecessary distortion to competition in the UK market''.
But it said efforts by the company and the wider drinks industry to reduce the amount of sugar in soft drinks would make the controversial levy an ``unnecessary measure'' when it comes into force.
The comments came as the Cumbernauld-based company said it would axe around 90 positions - or 10% of its workforce - as part of a restructure linked to its Fit for the Future business improvement strategy.
It said the overhaul would cost about £4 million to enforce and will impact its commercial, supply chain and central operations.
Chief executive Roger White said the company had delivered a strong first-half performance despite facing a challenging trading environment and poor weather in the ``important early summer months''.
"While maintaining overall market share, we have seen the impact of changing consumer preferences across our portfolio,'' he added.
"In line with general market trends, lower and no sugar products have performed better as consumers respond to the significant weight of negative media coverage pointed towards added sugar products particularly in the last six months.''
The firm said it was taking action to avoid a hit of about £3 million to £4 million from rising import costs triggered by the plunge in the value of the pound following Britain's vote to leave the European Union.
Pre-tax profits rose 24% to £21.1 million over the period, which was boosted by a move to close its defined benefit pension scheme. Revenues were down 2.8% on a like-for-like basis.
It said Irn-Bru Xtra, a sugar-free version of Scotland's favourite soft drink, was performing well and would make a "material contribution'' to the business throughout the year.
The company said it was on track to deliver a rise in full-year pre-tax profits as it banks on strong trading over the Christmas period.
Shares were down more than 1% following the update.