Holyrood wants 'basic answers' ahead of Brexit committee meeting
12 December 2017, 06:18 | Updated: 12 December 2017, 06:20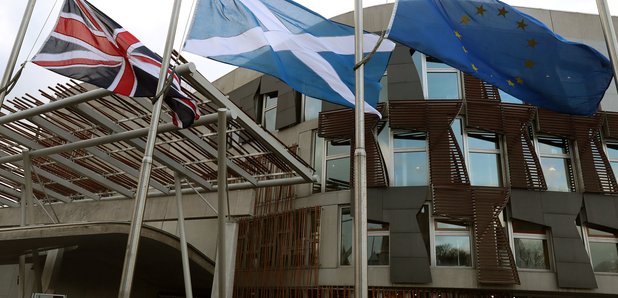 The Scottish Government is demanding "basic answers" on Brexit ahead of the latest meeting of devolved ministers.
Last week, Nicola Sturgeon welcomed a breakthrough in EU talks and renewed calls for the UK to remain in the single market and customs union, and for the UK's devolved administrations to be fully involved in the next phase of talks.

Before the latest meeting of the Joint Ministerial Committee (JMC) on EU Negotiations in London, Scotland's Brexit minister Michael Russell has written to First Secretary of State Damain Green calling for more clarity.

Mr Russell said: "We welcome any positive progress in the Brexit talks, but there remains huge uncertainty following last week's announcement in Brussels.

"The UK Government insists it will remove Scotland from the world's most lucrative marketplace - the European single market of 500 million people.

"But we have no answers on a replacement trade deal, the cost to jobs and living standards or whether last week's exit deal is legally binding. We need these basic answers now.

"We also need urgent clarity on the implications of last Friday's deal for the other nations of the UK on the issue of UK-wide frameworks, in key areas like agriculture and state aid. We also need to be fully engaged in the negotiations to follow."

The JMC brings together representatives of the Scottish and Welsh governments, a senior civil servant in the absence of ministers from the Northern Ireland Executive, and UK Government ministers.

Mr Russell added: "The agreement reached last week would in effect allow Northern Ireland to enjoy its own arrangements, yet the UK Government ruled out a special deal for Scotland when we raised it a year ago.

"As the First Minister has made clear, any special arrangements for Northern Ireland must also be available to the other UK nations - otherwise we risk being placed at a competitive disadvantage when it comes to jobs and investment.

"I will also be making clear once again that the Scottish Government cannot recommend the approval of the EU Withdrawal Bill as drafted because it does not respect devolution. Indeed, the confusion of recent days has, if anything, made it harder to see how agreement might be reached."