Green Light For Trams Extension (Sort Of)
19 November 2015, 14:13 | Updated: 30 March 2016, 13:50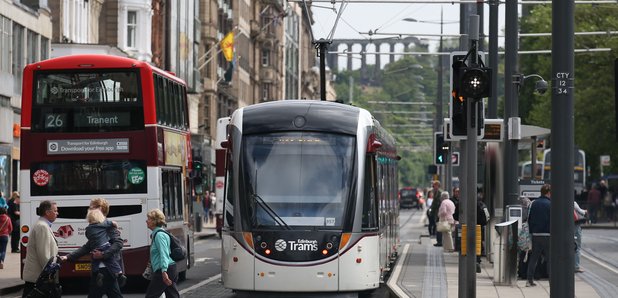 A proposal to use money from one of Britain's most highly-rated bus companies to complete a controversial city tram scheme has been delayed amid concerns it could impact on bus modernisation and lead to rising fares.
Edinburgh Council has voted overwhelmingly to approve, in principle, the resurrection of the original route of the city's trams to Newhaven - but it has delayed a vote on commencing work amid financial concerns brought by unions and bosses at the council's flagship Lothian Buses service.
The tram project, which is the subject of a public inquiry, was truncated to the city centre amid contractual disputes which saw its price tag rise to nearly £1 billion - making it one of the most expensive public-sector projects in Scotland.
The council now wants to spend a further £144.7 million but it is £25 million short - so it has asked for a £20 million "extraordinary dividend'' from Lothian Buses to add to £5 million council reserves to begin early work.
There were heckles from the public gallery, which included a delegation from Lothian Buses, when it became clear councillors were considering funding the trams with cash from the buses.
Councillors backed a motion which approves in principle the route to Newhaven, with a late amendment deferring the commencement of preparatory work until December 10.
The motion notes that Lothian Buses - which has frequently been named the UK's best bus service - is likely to finalise its 2017/19 business plan in spring 2016.
The council has now instructed the chief executive to write to Lothian Buses to request details of "any impacts the extraordinary dividend would make on their future transport strategy, fleet modernisation plans, the likelihood of future fare increases, loss of other transport initiatives and the confidence or otherwise of their ability to ensure the company can continue to meet its liabilities''.
The vote of 44 in favour, with 11 Conservative councillors against, represents a further repositioning by the SNP, who have gone from steadfast opponents to cautious advocates of the trams.