Great Scottish Run Course Was Too Short
30 January 2017, 15:00 | Updated: 30 January 2017, 15:05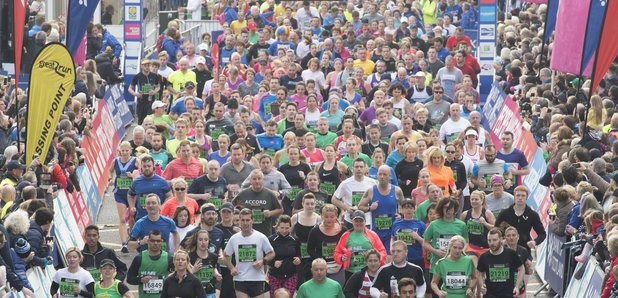 The course for last year's Great Scottish Run half marathon has been found to be almost 150 metres short, invalidating records and personal best times set at the event.
Organisers remeasured the supposed 13.1-mile route through Glasgow after doubts were raised and they found it was 149.7m short.
The Great Scottish Run said it was down to ''human error'' when measuring the distance before the race.
An event spokesman said: ''A small section of the prescribed route was not followed correctly in Bellahouston Park, which accounted for approximately 50 metres of the shortfall.
''The remainder of the shortfall was as a result of the difference between measuring on closed roads compared to a measure on unclosed roads - which was the methodology used in August as a result of notification of essential utilities works affecting the course.''
The finding means the Scottish half marathon record of one hour 22 seconds set by Callum Hawkins in the October race will be wiped away, along with other personal best times.
Organisers have apologised to Hawkins, who they said ''fully deserved his place in the record books after his fine run'', and to the winner of the women's race, Betsy Saina.
Extra measures are to be put in place later this year to ensure the distance is accurate.
Race director Andy Mitchelmore said: ''Great Run take responsibility for the miscalculation and we apologise unreservedly to the runners and to the city of Glasgow.
''This was an isolated incident.
''In the 30 years since the company was formed, more than four million people have participated in hundreds of our running events and the distances, which are measured by qualified independent parties, have been correct.''
Competitor Paul Elcock said he was ''really disappointed'' with the error as it meant he had lost his personal best time.
In a post left on the Great Scottish Run website, he wrote: ''I'm really disappointed with Great Run getting this so wrong then taking as long as this to confirm the course was short.
''It was my second time running it and I smashed my PB trying hard to see how much I'd improved in 12 months, and now I can't tell people my time!''