Glasgow Bin Driver 'Blacked Out Before'
23 July 2015, 17:11 | Updated: 30 March 2016, 13:50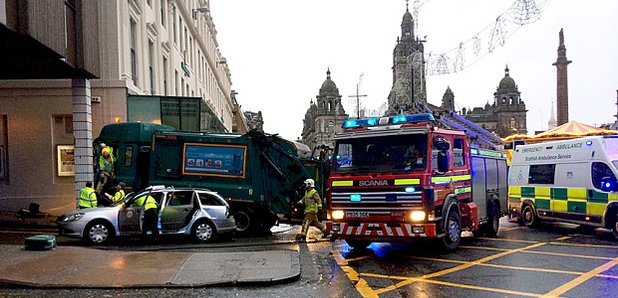 The driver of a runaway bin lorry that killed six people had suffered a blackout at the wheel years before, an inquiry has heard.
Harry Clarke lost control of the council truck in Glasgow city centre on December 22 after apparently losing consciousness.

An inquiry in to the Queen Street tragedy has heard evidence he collapsed while driving a bus on the morning of April 7 2010.

John Stewart, an inspector with First Bus Glasgow, was called out to deal with the incident reported by a passenger on the number 54 service.

Mr Stewart's notes, shown to the inquiry, said that the driver "advised he'd taken unwell at (bus) stop and blacked out for a couple of minutes''.

They went back to the depot and paramedics were called after the driver reported feeling unwell again.

The inspector, 49, noted that he was checked out, given the all-clear and ``refused to travel to hospital with ambulance''.

The Crown Office ordered a fatal accident inquiry (FAI) into the crash after prosecutors ruled there was no evidence to warrant criminal proceedings.

It has begun examining the route the truck took, the risk assessments that were in place at the time and Mr Clarke's medical history.

Sheriff John Beckett said today that Mr Clarke was expected to give evidence himself towards the end of the inquiry, which may last up to six weeks.

Erin McQuade, 18, and her grandparents Jack Sweeney, 68, and Lorraine Sweeney, 69, from Dumbarton, West Dunbartonshire, died from multiple injuries after being hit by the truck three days before Christmas.

Stephenie Tait, 29, and Jacqueline Morton, 51, both from Glasgow, and Gillian Ewing, 52, from Edinburgh, were also killed.