Funeral For Last Scots Tunisia Victims
13 July 2015, 13:17 | Updated: 30 March 2016, 13:50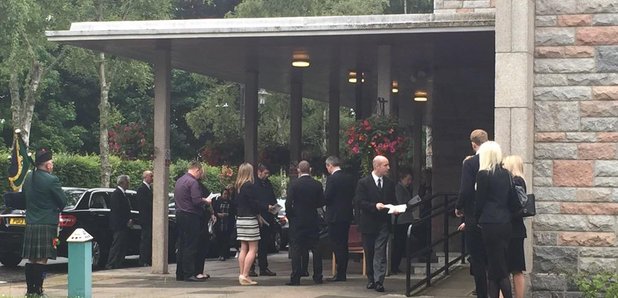 The grieving daughter of a Scottish couple killed in the Tunisian beach terror attack has told mourners at their funeral they were the "best parents in the world''.
Friends and family of Billy and Lisa Graham, from Bankfoot near Perth, heard they were "senselessly and unjustifiably murdered".

The couple were on a trip to the tourist resort of Sousse to celebrate Mrs Graham's 50th birthday when they were killed on June 26.

Hundreds of mourners gathered to say a final farewell to the "admired and respected" couple at a service at Perth Crematorium today.

Their daughter Holly sobbed as she told mourners: "My parents truly were the best parents in the world.

"I am going to miss them so much. I am so very proud to be their daughter and I will continue to do my best to make them proud to be my parents.

"Sleep tight, Mum and Dad, I love you."

Recalling her parents, she added: "Dad was such a happy man. He loved to laugh, he was always cracking jokes.

"He was certainly not a quiet man. He would always stop and chat to people in the street.

"Dad was a very strong and brave man. He would do anything for anyone.''

She said her mother was "the life and soul of every party''.

She added: "She worshipped the sun, whether on holiday or in the back garden.

"Mum's laugh was infectious. She often burst into giggles for reasons unknown.''

The Rev Sydney Graham told mourners the couple ``had a lovely relationship and life together'', and they had ``created and enjoyed a beautiful home in Bankfoot and worked hard in our community''.

He said: ``Where Billy went, Lisa went too, and they always found their place as an admired and respected family.''

Rev Graham said Mr Graham had spent ``22 years loyally serving us and their Queen and country in 5th Royal Inniskilling Dragoon Guards'', during which time he was deployed to Germany and Northern Ireland.

He continued: ``Billy and Lisa loved the special time of their holidays and breaks together in the sun.

``We are absolutely devastated and it is outrageous what happened to them as they enjoyed a well-earned rest in the sun at a favourite place.

``But love is eternal and stronger than death and no irrational act of man's inhumanity to man can ever defeat the power of love.''

He told how, after the beach attack in which 38 holidaymakers lost their lives, a candle-lit vigil had been held to remember the Grahams.

He said: ``Ten days ago the community gathered in the local play park in a massive vigil, lighting candles to curse the darkness and making a stand of showing support to Billy and Lisa's witness of light.

``Let there be no doubt the light of the world shines on in the darkness.

``Darkness has never succeeded in snuffing it and will never overcome it.''

A funeral service is also being held today for another of the victims, Welsh mother-of-four Trudy Jones.

Ms Jones, 51, of Blackwood in Gwent, South Wales, was on holiday with her friends when she was killed.

Her family said after the attack that ''our mother of all people didn't deserve this, such a caring person who put everyone else before herself``.

Another couple killed in the attack, Jim and Ann McQuire, from Cumbernauld, North Lanarkshire, were laid to rest on Friday.

The family of a further British victim of the attack, Sue Davey, have confirmed that a church service of thanksgiving will be held at St Editha's in her home town of Tamworth, Staffordshire, on July 17.

Ms Davey was killed along with her partner, Scott Chalkley, of Derby.

As well as the 30 Britons who were killed in the terrorist attack, three Irish nationals lost their lives along with two Germans, one Belgian, one Portuguese and one Russian.