Free sanitary product first in Scots council
17 August 2018, 14:24 | Updated: 17 August 2018, 14:25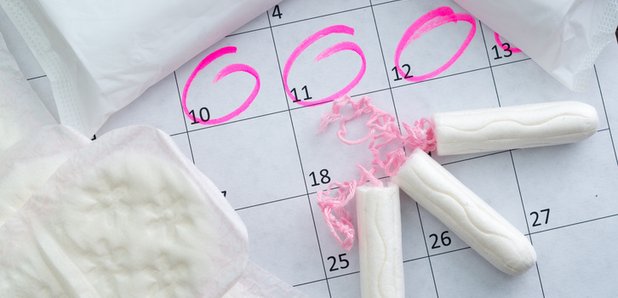 A council is to offer free sanitary products in all of its public buildings as part of a drive to tackle "period poverty".
Women in North Ayrshire will be able to access the products from vending machines in the toilets of up to 100 buildings such as libraries, community centres and public offices.
The council said it is the first local authority in the UK to offer free sanitary provision in all of its public buildings.
It comes after the local authority introduced free sanitary products in its secondary schools last August, with young women accessing more
than 13,000 free sanitary towels and tampons while at school in the last year.
Council leader Joe Cullinane said: "Sanitary products are a necessity, not a choice. I wish for no women or girl here in North Ayrshire to find
themselves in the embarrassing and often degrading situation of having to use improper sanitary protection simply because they cannot
afford it.
"After all, periods are not exempt from poverty - they don't take account of what is in your pocket or purse. Therefore, it is absolutely right
that we should look at ways in which to tackle this gendered inequality.
"This latest announcement in our period poverty programme aims to help address the issue and make period poverty history in North
Ayrshire."
A study published by girls' rights charity Plan International UK earlier this year found that 45% of those living in Scotland said they have
been forced to use makeshift sanitary wear including socks or newspapers because they have struggled to buy products.
The Scottish Government is rolling out a project to provide free sanitary products to women from low-income households across Scotland
following a pilot scheme in Aberdeen, while free sanitary products will also be available to those at school, college or university from this
month.
Scottish Labour MSP Monica Lennon, who is bringing forward a Member's Bill to create a statutory duty for free provision of sanitary
products, welcomed the scheme in North Ayrshire.
She said: "Councillor Cullinane and North Ayrshire Council are leading the way on ending period poverty.
"Access to sanitary products should be a right, regardless of your income, which is why I am moving ahead with plans for legislation to
introduce a universal system of free access to sanitary products for everyone in Scotland.
"I'm delighted that North Ayrshire will extend free sanitary product provision to all of its public buildings and I hope other organisations will
follow their lead.
"No-one should face the indignity of being unable to access these essential products to manage their period."